Twin 10-Mile Auto Races Run on the One-Mile Racetrack at Oakley, Kansas
Oakley Graphic
December 10, 1926
AUTO RACE SUNDAY WAS A THRILLER
KRHUT AND WRIGHT LEAVE TRACK
EPPS WINS FOR BERTRAND
The so-called grudge race staged at Oakley last Sunday between (Cecil) Wright1 of Winona, (Walter) Krhut of Collyer, and (Pierre) Bertrand of Oakley offered two or three good thrills for the spectators, in spite of the fact that the race was called an hour later than advertised because of trouble on the Bertrand racer. (John) Neff of Winona, did not enter his Chevy special. A couple of stock car races were put on to entertain the crowd while waiting for the main event.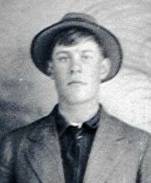 Walter F. Krhut
Wright, Krhut, and (Bill) Epps were off with a pretty even start, Epps taking the backfield with Wright slightly in the lead. Wright and Krhut see-sawed on the laps with the (Pierre) Bertrand (owned) car holding about a quarter behind. The leading drivers were both doing some real driving and taking every advantage coming down the stretches for all they had and coming into the turns rather wild. At about the sixth lap on the northwest corner, they were apparently even with Krhut on the outside and slightly in the lead. Wright held his position and the speed of (Krhut's) white car was too great for his outside position and it left the track turning end-over-end twice. The driver stayed with the car and was dazed but (in) conscious condition when assistance got to him. The car was badly damaged but not totally wrecked. Wright did some fancy turns, left the track, and was out for three rounds which enabled Epps to win the (first) ten-mile race.
Krhut was taken to the Harry Kurtz home and came down town that evening with the only visible injury a black eye.
In the second race between Epps and Wright, the ten-mile go was won by Wright, the Bertrand car having motor trouble and out at the eighth round.
1Leo Cecil Wright (1901-1990) is buried in the Russell Springs Cemetery at Russell Springs, Kansas. There is a carved image of Cecil in his racing car on his tombstone.
Return to The History of Automobile Racing at Oakley, Kansas home page