V.F.W.

Charlie Lutkie, right, with son Mike Lutkie who won the A feature at Winfield, Kansas in this Chevrolet on:
Sunday, July 14, 1968



Winfield Daily Courier
Monday, July 15, 1968, Page 8

Winfield Driver Among Winners
Winfield driver Kenny Moore drew the pole position in the second heat race at the V.F.W. sponsored stock car races at the fairgrounds Sunday and never gave up the lead as he raced to take the checkered flag. In winning, he qualified for the four-lap trophy dash but blew a tire on the last lap and was unable to finish. The trophy was won by Jack Petty of Wichita.
In the most exciting race of the day, Moore finished in a dead heat for second place in the semi-main event won by Buddy Hill of Wichita. Bud Haehn, also of Wichita, won the second semi-main event and the B Feature race.
In the A Feature won by Mike Lutkie of Wichita, Moore started at the very back of the pack and came in fifth.
Wichita Eagle
Monday, July 15, 1968
Lutkie Breezes to Feature Win
WINFIELD, Kan. - Wichita's Mike Lutkie, his 1955 Chevrolet performing flawlessly, took the lead on the eleventh lap and then breezed to the A feature win in the Automobile Racing Association of Kansas semi-late model stock car races here Sunday afternoon.
Lutkie took over the lead when Wichita's Buddy Hill blew his engine on the tenth lap and had to retire. Hill was leading by fifty yards when he lost his engine.
Starting places in the heat races were determined by random draw. Race Results:
| | | | | | |
| --- | --- | --- | --- | --- | --- |
| Race | Finish | Driver | From | Car # | Model / Make |
| First Heat | 1 | Melvin May, Jr. | Maize, KS | 7x | 1957 Ford |
| Second Heat | 1 | Kenny Moore | Winfield, KS | 88 | 1956 Chevrolet |
| Third Heat | 1 | Gary Moore | Wichita, KS | 18 | 1957 Ford |
| Trophy Dash | 1 | Jack Petty | Wichita, KS | 77 | 1957 Ford |
| First Semi-Final | 1 | Bud Haehn | Wichita, KS | 11 | 1956 Chevrolet |
| Second Semi-Final | 1 | Buddy Hill | Wichita, KS | 39 | 1958 Ford |
| | | | | | |
| B Feature | 1 | Bud Haehn | Wichita, KS | 11 | 1956 Chevrolet |
| | 2 | R. B. Flynn | Wichita, KS | 70 | 1958 Ford |
| | 3 | Bob Henshaw | Wichita, KS | 17 | 1956 Ford |
| | | | | | |
| A Feature | 1 | Mike Lutkie | Wichita, KS | 43 | 1956 Chevrolet |
| | 2 | Gary Beyer | Peck, KS | 14 | 1956 Chevrolet |
| | 3 | Merle Wagoner | Wichita, KS | 09 | 1958 Ford |
| | 4 | Bob Gilliland | Wichita, KS | 56 | 1958 Chevrolet |
| | 5 | Kenny Moore | Winfield, KS | 88 | 1956 Chevrolet |
If you know of more complete results of these races, please contact Bob Lawrence
Ernest Ramey of Wichita, Kansas rode over a loose wheel and axle from another competitor's car launching his car high into the air before it flipped several times at the head of the front straight-away of the Winfield, Kansas racetrack during the July 14, 1968 racing program. Ernest was uninjured in the violent crash. Click your mouse on the photo above to see more photos of this car taken on this date at Winfield – Ron Cyr photo from the Ernest Ramey collection
The #18 Ford on the pole of this race was driven by Gary Moore of Wichita, Kansas. The #07 Ford, on the outside of the front row was Stanley Topper of Winfield, Kansas. Bud Haehn of Wichita, Kansas started on the inside of the second row in the #11 Chevrolet. Hersel Wagoner can be seen here outside of the third row in the #58 Ford - M. L. Reeves photo
John Marshall leads this race down for the start in his 1959 Ford #41. R. B. Flynn is on the outside of the front row in his #70 Ford. Hersel Wagoner is starting inside of the second row in his #58 Ford. Mel Montgomery is on the outside of the second row in John Hebb's #05 Ford. Pinky Mullens is inside of the third row in this #02 Chevrolet and Stanley Topper is outside of the third row in his #07 Ford. Kenny Rutherford is inside of the fourth row in his #9A Ford - M. L. Reeves photo
Starter Al Alexander of Wichita, Kansas is shown waving the green flag to start a heat race at Winfield. #77 Jack Petty of Wichita started on the pole in Orbin Mashaney's 1957 Ford. That is #1A Bob Overton of Wichita in a Ford beside the #77. #66 Gary Vogt of Hesston Kansas started inside of the second row in the Yoder Ford Company owned 1956 Ford - Al Alexander collection
Jack Petty, center, won the trophy dash at Winfield on this date. Pit crewman Bob Nordstedt is standing at left while car owner Orbin Mashaney is standing at right - Jack Petty collection
BELOW: SOME OF THE DRIVERS WHO PARTICIPATE IN THESE RACES
| | | | | |
| --- | --- | --- | --- | --- |
| Mike Lutkie | Kenny Moore | Bud Haehn | Pinky Mullens | Mel Montgomery |
| | | | | |
| --- | --- | --- | --- | --- |
| Gary Moore | R. B. Flynn | Ernest Ramey | Jack Petty | John Marshall |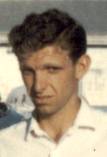 Gary Vogt
Return to page 2 of the History of Auto Racing at Winfield website