The Superior Garage
606 North Main Street - Winfield, Kansas
Unidentified driver in the Superior Special Abe Scruggs in the Nelson Special
This photograph was taken in front of the Superior Garage in Winfield, Kansas in July of 1928. Click your mouse on the photo above to see another photograph of just the Nelson Special that was taken that same afternoon.
The Scheibell Hissos
Louis "Lou" Scheibell of Kansas City, Misssouri owned both of these cars, each of which was powered by a 358.44 cu. in., 4-cylinder (half of a 719.88 cu. in. V-8 Hispano-Suiza aircraft engine) commonly known as a Hisso. The engine only turned a maximum of 2,750 r.m.p. but was relatively light and put out a tremendous amount of horsepower. Although Hispano-Suiza was a French company, many of their aircraft engines were built in the United States by Wright-Martin. The car at left, above, had dual ignition and it is possible that both cars were so equipped.
On September 6, 1926, the 38 year-old Scheibell was driving the car at left, above, in the feature race at Frontier Park, Cedar Rapids, Iowa when he swerved to miss another competitor, struck a pole, and suffered fatal injuries.
Scheibell's uncle, August Brunke (1871-1951) of Excelsior Springs, Missouri purchased the Nelson Special, at right above, from Lou's estate.
Marvin Wesley "Mack" McAnally (1902-1989) was residing at Winfield, Kansas and working for Wendell A. Sparling at the Superior Garage when he learned the remaining Scheibell racing car was also for sale. McAnally persuaded Sparling to purchase the car for McAnally to race and they contacted August Brunke to arrange delivery of the car to Winfield in time to have it ready for the races to be run at the Cowley County Fairgrounds on July 28, 1928. It is unclear if Sparling purchased the car directly from the Scheibell estate, or if Brunke acted as a broker in the transaction.
When Brunke delivered the car to the Superior Garage, he also brought along his Nelson Special and an employee, Abe Scruggs (1900-1962) to drive it. Scruggs worked for Brunke's A. Brunke & Sons Wrecking Co. at Excelsior Springs, Missouri.
The photograph above was taken by August Brunke and shows both cars in front of the Superior Garage not long before the July 28, 1928 race at Winfield. The Superior Special had been repaired from the crash at Cedar Rapids and painted in primer to cover the name Scheibell Special on the hood and the number "150" which was on the tail. Between when this photo was taken and the race at Winfield, the car was painted white with its new name Superior Special lettered on the hood and its new number "43" (later changed to "1434") painted on the tail.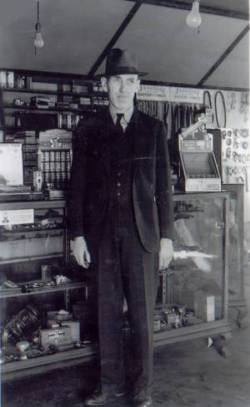 Wendell A. Sparling
This photograph is believed to have been taken inside the Superior Garage.
On Saturday afternoon, July 28, 1928, Abe Scruggs fared poorly in the Nelson Special, suffering scratches and burses when he was involved in a wreck in the second heat. Next, he finishing fourth of six cars that started in the third heat. Not qualified for the "Grand Final", Abe entered the consolation race but finished last in the six car field. Suffering from engine trouble, Scruggs completed only seven of the scheduled eight laps in the consolation.
McAnally had a much better day as he drove the Superior Special to a tie for fourth quickest of the 14 entries in time trials, then won both the first and second heat races in record time on his way to finishing second in the 12-lap "Grand Final". McAnally, however, felt the car was too fast and declined to race it anymore.
Although Wendell Arthur Sparling (1896-1954) had gotten into auto racing as a business decision, not necessarily because he wanted to be a race car driver, he also did not want to waste the investment he had made in the car, so he decided to drive it himself on the next scheduled race date which was on October 9, 1928 during the Cowley County Fair. A fourth place finish in the first heat race earned him a starting spot in the 15-lap final where he was involved in a four-car crash that eliminated him from competition for the rest of that day.
Sparling repaired the car and returned to the Cowley County Fairgrounds four days later to race again. This time, he set a new track record in time trials of 32.4 seconds for one lap around the half-mile dirt oval. Next, he won the first heat race by a large margin setting another new track record in the process. For reasons yet unclear, Sparling did not start the feature race that day and, in fact, never raced again. Some say other participants were not happy having been beaten so badly by a rookie driver and cautioned Sparling not to do so again. Others feel that Sparling's wife was not very fond of his racing. Whatever the reason, by 1930, Sparling had disposed of the race car, sold the Superior Garage to Edward M. "Ed" Cooper (1896-1966) and moved his family to Gladewater, Texas. A couple of years later, they moved on to Stanislaus County, California where Sparling worked as a mechanic and operated a 500 acre dairy. Wendell Sparling passed away at Ceres, California and is buried at Pomona, California.
Some say that Ed Cooper purchased the Superior Special along with the Superior Garage. Whatever the case, the Superior Special was in the possession of Tom Murie of Kansas City, Missouri by 1932. Murie raced the car several times before selling it to Rea Bray of Hutchinson, Kansas later in the 1930s. Bray was fatally injured during a 500-mile race at Oakland Speedway, Oakland, California in 1941 while driving another Hispano-Suiza powered car he had purchased from Vic Felt (1901-1989) of Denver, Colorado.
Anyone with further information about the Superior Special is asked to contact Bob Lawrence.