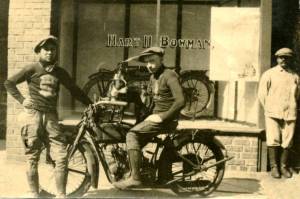 Frank "Kid" Chacon, left with his boss,
Hart Hueraine "Hal" Bowman (1895-1972) who is seated
on a 1919 Harley-Davidson
Louann (Chacon) Schodde collection
F
rank "Kid"
C
hacon
1902 - 1990
Francisco Pauda "Frank" Chacon was born in Colorado and had moved to Wichita, Kansas by 1920 where he was employed as a motorcycle mechanic at Hart H. "Hal" Bowman's Indian motorcycle dealership and worked a second job at the Wichita Beacon newspaper.
Chacon's first entry into organized motorcycle racing came on September 19, 1920 over a mile-and-a-half stretch of the "Medora Road" north of Hutchinson, Kansas. The races were limited to individual time trials due to the narrow width of the road but Chacon turned in the fastest time of the day among the nine competitors, covering the course in 68 seconds on a Harley-Davidson.
Chacon entered a Ford roadster in automobile races sponsored on by the Hutchinson American Leigon at the Kansas State Fairgrounds on October 8-9, 1920 but it is unclear whether or not he actually participated in those races.
Chacon, riding an Indian motorcycle, finished second in a five-mile race on the half-mile dirt racetrack at Alethic Park in Newton, Kansas that was run on November 11, 1920. Ted Young of Hutchinson, Kansas who was riding a Harley-Davidson motorcycle, won that race.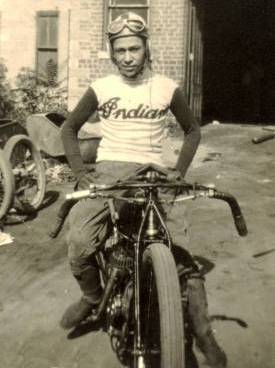 Frank "Kid" Chacon
Louann (Chacon) Schodde collection
Chacon placed second behind Hart "Hal" Bowman in a nine-mile "Free-for-All" motorcycle race run on April 3, 1921 at Valley Center, Kansas.  Chacon also won the "slow race" that was on the card that same afternoon.
Chacon finished in second place in the featured automobile race at Cushing, Oklahoma on July 4, 1921.
Chacon entered an Indian motorcycle in a 300-mile national championship motorcycle race at Meridian Speedway in Wichita, Kansas on July 4, 1922 but for some unknown reason, he did not start that race.
Chacon finished fourth of 19 entrants in a 200-mile professional motorcycle race at the Meridian Speedway on July 4, 1923 and ahead of many top competitors of the time including Ralph Hepburn who went on to compete in the Indianapolis "500" automobile race 15 times between 1925 and 1946.
Chacon's next motorcycle race was at the Kansas State Fair in Hutchinson on September 15, 1923 but it isn't known how he fared in that event.
Chacon had become a well known competitor in professional motorcycle racing nationally when he was recruited to ride for the Indian Motorcycle Company in the late 1920s. Indian provided a single-cylinder big valve motorcycle to Gerald Chance (1898-1969) for Chacon to campaign at races throughout the Midwest. Chance was the Indian Motorcycle dealer in Wichita at that time.
Chacon retired from motorcycle racing in the mid-1930s toured the country playing banjo with a large band. By the 1940s, he had returned to Wichita where he was instermental in getting the new 1/8-mile Westside Park Racetrack for midgets built. He then served as flagman and starter for the midget auto races at Westside Park and at the Alaskin Ice Palace. It was during this time that he took a job with Boeing Aircraft where he became a self-taught tool design engineer.
Married and the father of two daughters, Chacon's hobbies included building go-carts (for a daughter to race) and tiny model airplane engine powered racing cars.
Chacon managed and promoted quarter-midget races at the new racetrack at Joyland Park in Wichita in the mid-1950s.
After his retirement from Boeing, Chacon opened a bicycle shop in Wichita. He is buried beside his wife in White Chapel Cemetery in Wichita.
Left to right: Ina Chacon, Frank "Kid" Chacon, Lois Chance, and Gerald Chance - Early 1930s - photo from the book "A Lifetime of Chances" by Mary Elizabeth (Chance) VanScyoc and is used here by permission
The man at right is Frank "Kid" Chacon. The words "Safety First" are on the radiator emblem. The engine appears to be a flat head Ford Model T. The axel and front cross-member are also Model T. The exhaust manifold is Model T as is the intake and warm air pipe. The drive train appears to be Model T and the body is custom. If you know anything else about this photo, please contact Bob Lawrence at: sprintguy @ cox.net - Louann (Chacon) Schodde collection