Midget Auto Races
Bo Stearns' Track, Wichita, Kansas
Sunday Afternoon, August 6, 1939
Races sanctioned by the Midwest Racing Association and promoted by Joe Bennett
Heat races were run on the 1/5 mile racetrack but it "cut up" so badly that the remainder of the program was run on the half-mile racetrack
This photo of Emmett Taylor was taken right after he set the fastest time in time trials on this day at the Bo Stearns' Racetrack with a time of 16.04 seconds on the flat 1/5 mile racetrack – L. A. Ward photo from the Vickey Cummings collection
Entry List:

DRIVER

HOMETOWN

CAR #

Bill Harrison15

Dodge City, KS

9

Rex Woodward1

Hutchinson, KS

27

Ted Davis2

Junction City, KS

37

Ernie Lawson14

Hutchinson, KS

SE7

Vern Bretz3

Dighton, KS

X3

Van Gondy

Hutchinson, KS

Q1

"Red" Carr

Hutchinson, KS

5

Jimmy Stallman8

Hutchinson, KS

57

D. A. Clem9

Wichita, KS

13

Emmett Taylor12

Wichita, KS

C4

Vern Peatling4

Salina, KS

33

Frank Dickerson5

Wichita, KS

17

Ted Applebee

Salina, KS

14

Louis Geisen11

Minneapolis, KS

15

H. King6

Lindsborg, KS

4

Emmett Swartz

Fred Applegate

Art Carpenter

Joe Bennett13

Hutchinson, KS

Cecil Maupin, Sr.7

Dodge City, KS

27

Bill Lehman10

Hutchinson, KS

5
D. A. Clem
Photo from the Vickey Cummings collection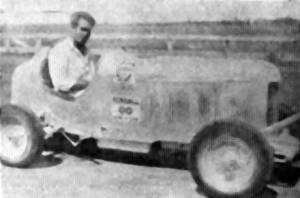 Ted Davis
Photo from Four-Banger magazine
Wichita Beacon

Wichita, KS

Monday, August 7, 1939 – page 7

Hutchinson Star

Midget Winner

Well over a thousand Wichita speed fans withstood the sun and wind yesterday to watch a score of midget racers hurtle around the Bo Stearns track north of Wichita.

Emmett Taylor12 led the feature race for the first 13 laps but a bump by Rex Woodward spun him around on the dusty racetrack and caused him to loose the race.

Both Ernie Lawson14 and Ted Davis2 got their cars upside down during the afternoon of racing.

Race Results:

Time Trials – 1 lap (1/5 mile) – Quick Time :16.04

PLACE

DRIVER

HOMETOWN

1

Emmett Taylor12

Wichita, KS

First Heat - 10 Laps (2 miles) – Time: 2:10.0

PLACE

DRIVER

HOMETOWN

1

Emmett Taylor12

Wichita, KS

2

Rex Woodward1

Hutchinson, KS

3

Emmett Swartz

Second Heat – 5 Laps (1 mile) – Time: 1:10.0

PLACE

DRIVER

HOMETOWN

1

Fred Applegate

2

Joe Bennett13

Hutchinson, KS

Third Heat – 5 Laps (1 mile) – Time: 1:14.0

PLACE

DRIVER

HOMETOWN

1

Cecil Maupin, Sr.7

Dodge City, KS

Feature – 15 Laps (7 ½ miles)

PLACE

DRIVER

HOMETOWN

1

Rex Woodward1

Hutchinson, KS

2

Cecil Maupin, Sr.7

Dodge City, KS

3

Bill Lehman10

Hutchinson, KS

Emmett Taylor12

Wichita, KS

Emmett Swartz

Fred Applegate

Joe Bennett13

Hutchinson, KS

It should be noted that the results above were published in the August 7, 1939 issue of the Wichita Beacon newspaper. Quite different results for these same appeared in an article written by L. A. Ward and published in National Auto Racing News:

Time Trials – 1 lap (1/5 mile) – Quick Time :16.04

PLACE

DRIVER

HOMETOWN

1

Emmett Taylor12

Wichita, KS

First Heat - 10 Laps (2 miles)

PLACE

DRIVER

HOMETOWN

1

Emmett Taylor12

Wichita, KS

2

Rex Woodward1

Hutchinson, KS

3

Jimmy Stallman8

Hutchinson, KS

Second Heat

PLACE

DRIVER

HOMETOWN

1

Ted Applebee

Salina, KS

2

Cecil Maupin, Sr.7

Dodge City, KS

3

Ernie Lawson14

Hutchinson, KS

Third Heat

PLACE

DRIVER

HOMETOWN

1

Bill Harrison

Dodge City, KS

2

Bill Lehman10

Hutchinson, KS

3

Art Carpenter

Feature

PLACE

DRIVER

HOMETOWN

1

Rex Woodward1

Hutchinson, KS

2

Bill Harrison

Dodge City, KS

3

Cecil Maupin, Sr.7

Dodge City, KS

4

Art Carpenter

Louis Geisen

Geisen family collection
Frank Dickerson
Photo from the book One Tough Circuit, Midget Racing in America's Heartland by Bill Hill
Bill Lehman
Photo from the book One Tough Circuit, Midget Racing in America's Heartland by Bill Hill
Jimmy Stallman
Geisen family collection
H. King
Vickey Cummings collection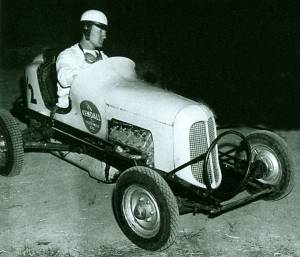 Rex Woodward
Photo from the book One Tough Circuit, Midget Racing in America's Heartland by Bill Hill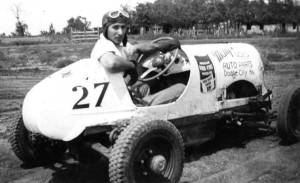 Cecil Maupin, Sr.
Vickey Cummings collection
Ted Applebee
Wichita Beacon photo
Bill Harrison
Lehman collection
1 Rex Miles Woodward (1920-1942) died in a sprint car crash at Ft. Wayne, Indiana
2 Theodore L. "Ted" Davis (1903-1990) was a "big car" driver in the 1930s and a well known auto racing flagman in the 1940s and 1950s. This race at Bo Stearns' was his first ever in a midget though. It ended when, blinded by dust, he crashed into the infield fence and overturned. He received minor cuts about his face and arms for his effort.
3 George DeVern "Vern" Bretz (1916-2000)
4 Vernon L. "Vern" Peatling (1908-1993) drove a midget he called "Hi Ho Silver"
5 Frank K. Dickerson (1920-1995)
6 H. King entered a "three-wheel special" built by L. Petering of Lindsborg, Kansas in these midget auto races. That same car also showed up after World War II racing at Hutchinson, Kansas.
7 Cecil Leroy Maupin, Sr. (1907-1996) is buried in Maple Grove Cemetery at Dodge City, Kansas
8 James Richard "Jimmy" Stallman (1910-1982)
9 Durward Aloysius "D. A." Clem (1906-1956) is buried in Old Mission Cemetery in Wichita, Kansas
10 William Ernest "Bill" Lehman (1907-1969)
11 Louis B. "Louie" Geisen (1907-1982)
12 Emmett Walter Taylor (1910-1963) is buried in Wichita Park Cemetery in Wichita, Kansas
13 Joe Bennett was not only the president of the sanctioning Midwest Racing Association and the promoter of these races. He also competed in them as well.
14 "This was the dusty little show where Ernie Lawson was riding merrily down the track when suddenly he saw the broken-down end of the infield fence and, thinking he was clear off the beam, he bent her. Ernie ended bottom side up and pitmen rushed to the rescue. They righted the car with Ernie yelling 'push me out again'. Push him off they did and he finished third in the (heat) race." - L. A. Ward
15 William James "Bill" Harrison (1910-1992) moved to Topeka, Kansas and continued competing as a driver in I.M.C.A. Late Model Stock Cars.
Durwood Clem
Return to the Bo Stearns' Track home page
Durwood A. Clem
Durwood Aloysius Clem