Wichita Fairgrounds Racetrack
Later Known as
West Side Racetrack
Later Known as
West Side Park
Later Known as
West Side Speedway
The Latter Being Two Blocks North of Douglas Street between Glenn Street and Vine Street at 1800 West Third Street in Wichita, Kansas
Numerous horse racetracks had been scattered around Wichita, KS for years and many automobile races were scheduled on them in the first decade of the twentieth century but few actually took place. It happened so often that the Wichita Daily Eagle newspaper editorialized that they would not believe in automobile racing until they saw one advertised that actually took place.
The first known serious attempt to run an automobile race in Wichita was the half-mile dirt oval South Riverside Racetrack on September 1, 1902. A three-race program of automobile racing was scheduled on the half-mile dirt racetrack located along both the Big and Little Arkansas Rivers in South Riverside Park just to the northwest of downtown in Wichita, Kansas.
This racetrack is where the first automobile races (not counting impromptu contests between just two vehicles) ever run in Wichita were contested:
Another race was scheduled at the South Riverside Racetrack for Labor Day, September 6, 1909 but the posted purse was $6 for first place and $4 for second place. The drivers assembled refused to compete for such a paltry purse so this event was canceled.
The Wichita Fairgrounds Racetrack can be traced back to 1906. At that time, the fairgrounds were bounded by what is now First St. on the south, Osage St. on the west, and the Big Arkansas River on the north and the east. The half-mile dirt oval occupied 15 acres on the west side of the 31-acre Wichita Fairgrounds. The straightaways on the racetrack ran north and south.
There were only two entries for the one race that was scheduled to be run on July 3, 1908. That four-lap contest was canceled when the Auburn, driven by Harry M Hicks (1882-1922) of Wichita, stopped on the course after completing just one lap. A Ford, driven by Carl E. Evans of Wichita, was already well ahead when Evans stopped beside Hicks' Auburn with one lap still remaining in the race. Hicks claimed that his battery was dead so he could not continue. Race organizer, Charles Mosbacher, then canceled the event as Evans had not yet completed the prescribed distance.
6,000 spectators then returned on July 4, 1908 to witness Evans and Hicks compete in another race.
The next known auto races to be run on this half-mile dirt oval was a non-sanctioned event run in a virtual sand storm:
Right after these races, much of the land where the fairgrounds had stood was purchased by the Midland Valley Railway Company. By late August of that year, the racetrack and grandstands had been razed to make way for a new railroad terminal and yard.
The next races run at Wichita were on November 11, 1912 but nothing more is known about that event.
The next races run in Wichita were held on a mile and a half circular dirt racetrack at the short-lived Speedway Park southwest of Wichita on South Meridian St. in October of 1915.
The next known auto races to be run in Wichita were on a half-mile dirt oval that was the first racetrack to be known as the West Side Racetrack. It was built in 1916 on a 25-acre parcel "even with Charles St. from First St. north to the Arkansas River." The grandstands were along the east side of what would have been Clarence St. on the west side of the racetrack if Clarence St. had proceeded north from its intersection with First St. The auto races held on that racetrack this year were promoted by Capt. Harvey Kennedy backed by Ernest Moross and his company, Moross Amusements. As with the races run at the West Side Racetrack through 1918, the cars and drivers that participated were contracted with by the promoters:
It is unknown who promoted the first day of races on this half-mile dirt oval in 1917. Those consisted of racing during the International Wheat Show and was a non-sanctioned program for local cars and drivers. The next three days of racing also run during the wheat show were promoted by Louis Disbrow of Indianapolis, Indiana. Disbrow was a veteran driver himself and competed in his own races:
The next auto races to be run on the half-mile dirt oval were promoted by Ralph Hankinson of Wichita, Kansas:
The races run on this racetrack during the International Wheat Show in Wichita in 1918 were promoted by Lewis Disbrow of Indianapolis, Indiana:
I.M.C.A. sanctioned aces were run during that annual International Wheat Show in 1919. Those were promoted by J. Alex Sloan of Des Moines, Iowa and his assistant, Howard Duff:
The next known auto race to be competed there was an unsanctioned event organized by Merle Warren of Newton, Kansas and run on the afternoon of July 4, 1921. Merle Warren also scheduled a second race to be run at West Side Racetrack on Sunday afternoon, October 2, 1921 but that race was canceled when Warren learned that state law prohibited "amusements" on Sundays. Warren then promoted some auto races that were run at the West Side Racetrack on:
The next auto races run in Wichita took place at the short lived Meridian Speedway in the early 1920s and on the Bo Stearns Track northwest of the intersection of 101st and North Broadway (then known as North Old Lawrence Road) in the 1930s.
In the meantime, the Cessna-Roos aircraft company purchased much of the land that had been the half-mile West Side Racetrack north of First St. and Charles St. and turned it into a landing field for their adjacent factory in the fall of 1927. The racetrack was shortened to 1/8 mile and softball fields were also added on the property. The facility was utilized seven days a week in the summers of 1941 and 1942 with softball games scheduled Monday through Saturday nights and Kansas Midget Racing (KMR) sanctioned midget auto races run on the racetrack owned by Frank Addis and promoted by Frank Murphy on Sunday nights beginning on May 25, 1941. Over the next two years, drivers from five states would win feature races on this very competitive "bullring":
Sources: One Tough Circuit, Midget Racing in America's Heartland by Bill Hill
Wichita Beacon newspaper
D. A. Clem won the points championship in 1941 while Guy "Mac" McHenry was the points champion in 1942 driving a car owned by Clem.
World War II put an end to the racing season across the nation after July 31, 1942 and the sport did not return to this little racing facility. Today, only the softball complex known as the West Side Athletic Field remains.
1941 West Side Speedway Champion – D. A. Clem
Durward Aloysius "D. A." Clem (1906–1956) at West Side Speedway in the earlier of his at least two front-wheel-drive midgets. This one was powered by an Indian motorcycle engine and today is owned by Bob More of Junction City, Kansas. The car is currently in pieces awaiting restoration - Louann (Chacon) Schodde collection
1942 West Side Speedway Champion – Guy "Mac" McHenry
D. A. Clem found himself too busy helping with the war effort in Wichita's defense plants to defend his midget title in 1942 so Mac McHenry (1918–1964) drove D. A. Clem's #13 midget to the championship for him that year. McHenry is shown here parked in the pit area at West Side Speedway in the later of D. A. Clem's two front-wheel-drive midgets. This one was equipped with a Menasco engine.
Clem received serious injuries in a highway accident near Stillwater, Oklahoma in the summer of 1946 while transporting this car to a race in Oklahoma. While Clem was hospitalized, mechanic Jim Soukup repaired the midget and then took it for a test drive on a Wichita city street. The result was a crash that required Soukup to be cut from the midget although he sustained only minor injuries. By September 8th, the car was back in competition again at Wichita's Cejay Stadium with George Elrod driving – Cindy Abbott collection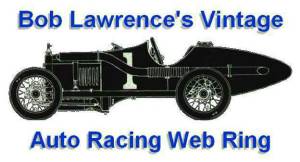 Durwood A. Clem
Durwood Clem
Durwood Aloysius Clem