William Wayne "W. W." Brown
a.k.a. "Cockeyed" Brown
(1886 - 1958)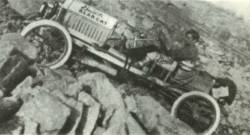 This photograph of W. W. Brown was taken on July 17, 1913 as he drove his Model 10 Buick "Bearcat" up Pikes Peak in Colorado. He had raced the car in Winfield, Kansas just 13 days earlier. Click your mouse on the photo above to see a plaque commeriating Brown's ascent of Pikes Peak.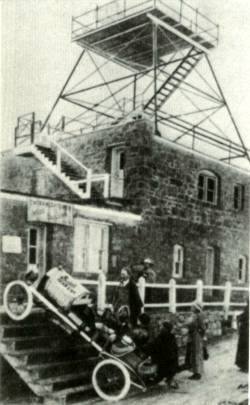 After reaching the summit of Pikes Peak on July 17, 1913 without the aid of horses to pull him, W. W. Brown proceeded to drive up the steps of the Summit House to get his 1910 Model 10 "Bearcat" to the highest point on the mountain that he possibly could.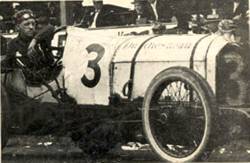 W. W. Brown in the Du Chesneau he raced at Elgin, Illinois in 1915 - John Distefano collection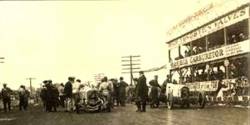 #3 W. W. Brown at start of the 1915 Elgin Road Race, Elgin, Illinois
John Distefano collection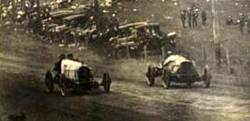 W. W. Brown, left, driving a #3 Du Chesneau in the 1915
Elgin Road Race, Elgin, Illinois – John Distefano collection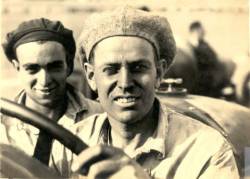 W. W. Brown, right, with his riding mechanic, Tony Gulotta who drove in the Indianapolis "500" 13 times himself between 1926 and 1939
John Distefano collection
The Buick Trophy

also known as the

R. H. Collins Trophy

R. H. Collins, manager of a Kansas City Buick dealership, awarded the Buick Trophy to the owner of the winning car in a five-mile race for privately owned entries that was contested annually at the Elm Ridge race course in Kansas City, Missouri from 1909 through 1912. Collins went on to become a vice-president of General Motors.

W. W. Brown, who was the last of the four recipients of the award, drove his own Buick 10 to victory in this race on June 15, 1912. He claimed to have purchased the car for $150 after it had been burned in a garage fire. Brown lapped the second place finisher, defending champion Jack McLean* who was driving a Velie – photo from the Velie Register
*According to an article appearing on page 9 of the September 22, 1911 issue of the Hutchinson News, Jack McLean displayed his "Velie 41" at the Kansas State Fair at Hutchinson, Kansas that year. The article states that McLean raced the car both at Kansas City and in "the Indianapolis motor race this past Decoration Day" (the 1911 Indianapolis "500"). To date, no independent validation of that latter claim has been located.