Photo from the Raymond Manning collection
Clarence Eugene "Bud" Manning
1922 – 1971
And
Arnold Edward "Blank" Blankenburg
1905 - 2000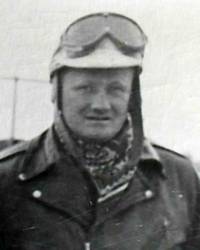 "Bud" Manning
Raymond Manning collection
Arnold "Blank" Blankenburg, standing above, was the first owner of this V8-Oldsmobile "88" powered hot rod dubbed the "Flying Bird Cage" because of the unique pipe structure between the front wheels. It was driven in High Plains Racing Association sanctioned races at Oakley, KS; Oberlin, KS; Goodland, KS; Garden City, KS; Scott City, KS, and Great Bend, KS by Ray Marcotte and by "Bud" Manning who is shown above in the car. Manning also drove the car in events sanctioned by the Nebraska Hot Rod Racing Association at Norton, KS and Belleville, KS. Besides serving as president of the High Plains Racing Association, Blankenburg was the organizer and promoter of their races. He also owned a Chevrolet - Oldsmobile dealership in Oakley, KS.
Note that the radiator on the #88 Oldsmobile above was located behind the driver in an effort to keep it from getting clogged with mud.
Blankenburg sold this car to Simon Dreiling who kept Manning on as driver for one more season. Dreiling then sold the car to "Bud" Manning's brother, Kenny Manning of Oberlin, KS. Blankenburg, Dreiling, and Bud Mannings were all from Oakley, KS.
"Bud" Manning retired from driving racing cars after suffering a broken neck in an accident while driving the Joe Brown's #19 Brown Motor Company car in a race at Oakley, KS on July 19, 1952.
This is the 180 H.P. Chrysler V8 powered sprint car that Bud Manning drove to victory in the feature race at Oakley, KS on July 4, 1952. The car was owned by the Brown Motor Co. of Oberlin, KS. Standing left to right are: Joe Brown, Bud Manning, Don Brown, and Leslie Brown – Pattie Brown collection
Return to the History of Automobile Racing at Oakley, Kansas home page