Curt Stockwell's
Nash – Healey Powered Champ Car
Donald Healey of the Donald Healey Motor Company (later Austin-Healey) of Warwick, England built a Nash powered racing car and entered it in the "24 Hours of LeMans" sports car race in 1950 finishing fourth. The Nash Motor Company was so impressed with the effort that they developed plans for a Nash-Healey sports car utilizing a modified 255 horsepower, 6-cylinder Nash Ambassador engine of 234.8-cubic inch displacement (3847 c.c.) with an 8:1 compression aluminum head, 7-main-bearing crankshaft, intake manifold sealed-in-head, and two Skinner's Union side-draft carburetors.
The Nash-Healey sports car never went into production but Curt Stockwell of Denver, Colorado was able to obtain one of the rare Nash-Healey engines and the backing of the Nash Motor Company for an AAA championship car that he owned. Stockwell had started his racing career driving a big car in the 1920s at Salina, Kansas before moving the Denver in the 1930s. There, he opened a Nash automobile agency and became involved with racing both big cars and midgets.
By the 1950s, Stockwell was operating a Sinclair service station and garage in Denver as well as racing a midget and the Nash-Healey champ car with sponsorship from the Colorado Nash Dealers Association.
Other drivers including Art Hillis and Joe Alspaugh drove Stockwell's Nash–Healley champ car but T. E. Russell, also of Denver, drove it most often. When not racing the car up Pike's Peak with AAA, the pair passed it off as a sprint car at UMCA and IMCA sprint car races in Kansas and Nebraska. Those sanctioning bodies reportedly knew of the deception but were short on legitimate entries and allowed the car to compete. The Nash-Healey was successfully able to compete with the Offenhauser sprint cars that were dominant at the time.
Since T. E. Russell held an AAA license mainly for the Pike's Peak race, he would drive the Stockwell Nash – Healey champ car with UMCA and IMCA under the aliases "David Linn" and "David Lynn" which were derived from a combination of the names of his son, David, and his daughter, Ruth Lynn.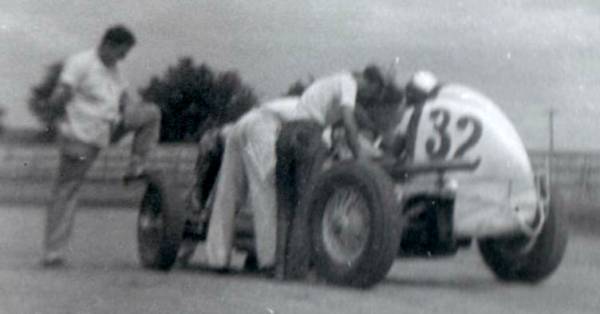 T. E. Russell prepares to leave the pits in Stockwell's Nash-Healey champ car.
The Nash–Healey powered champ car carried several different numbers on its tail over the years. Here, owner Curt Stockwell is pictured making some adjustments. Click your mouse on this photo to see another photo of Stockwell and the champ car taken at about the same time.
6, 32, 46, 62 and 63 were some of the numbers that graced the tail of Stockwell's Nash-Healey champ car.  Stockwell is on the left in this photo that was taken at Pike's Peak, Colorado in 1951.  This is the only race that Stockwell is believed to have competed in as a driver.
Stockwell's Nash – Healey champ car is shown here lined up beside the Baldauf Wayne Chevrolet driven by Mickey McCormick.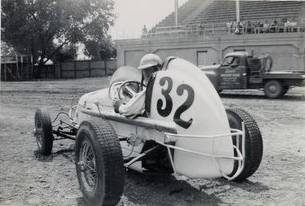 Wes Goodwin in Curt Stockwell's Nash – Healey champ car at Dodge City, Kansas in 1952.
Tommy Madison collection
T. E. Russell is shown here in Stockwell's Nash – Healey champ car when it was painted a dark color.
Thornton Elgie "T. E." Russell

1918 - 1967

Curtis C. "Curt" Stockwell

1904 - 1974
Unless otherwise noted, ll of the photographs on this web page are from the Dave Russell collection