"Hoxie's Flying Farm Agent"
Richard Louis "Dick" Jepsen
1925 – 2010
I.M.C.A. Late Model Stock Car Driver
1954 – 1957
Dick Jepsen drove this 1951 Oldsmobile 88 in the I.M.C.A. late model stock car races in 1954 and 1955. Click your mouse on the photo to see another view of this car sitting on a street in Hoxie, Kansas
"I had a 1941 Oldsmobile 98, big, long and black that ran pretty well. I was set up to race it at Hutchinson (Kansas) I believe in the late summer of 1949 but the race was rained out and I traded it in for a red 1950 Oldsmobile 88 that Bobby McKim drove for the Abilene Oldsmobile dealer at the time, I believe Rice Motor Company. That would have been in the fall of 1950 or spring of 1951. I did race it in Hutchinson in the fall of 1951, probably at the state fair. I broke a rear wheel and flipped. That was before the insurance companies exempted damage from car racing. After much huffing and puffing and a letter from an attorney, they paid the repair bill but they cancelled the policy. Not a very understanding company….
"In 1953, I moved to Hoxie (Kansas from Great Bend, Kansas) and picked up a body damaged 1951 Oldsmobile 88 with hydromantic drive, replaced the body, built it up and raced with I.M.C.A. in 1954 and 1955.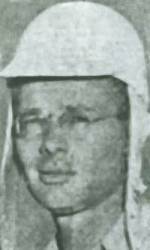 Dick Jepsen
"I was on the list to receive one of the twelve 1956 Olds race cars that Oldsmobile was going to build. In the fall of 1955, they won the first two races so easily and NASCAR found out they were only going to build twelve. NASCAR said they had to build 300. I think the president of Oldsmobile at the time was Smith and he told me we are not letting any upstart racing organization tell GM how many cars to build, so they cancelled the whole program.
"Between GM and the Hoxie Oldsmobile dealer, I was able to buy a 1956 Oldsmobile 88 and the racing parts very reasonably from the factory and raced it in I.M.C.A. in 1956 and a Memorial Day race in 1957 when a rear safety hub broke and wrecked. I did win one of the (Kansas) State Fair races with it in 1956. In 1958, I bought one of the NASCAR Fords and raced it some. Then I got recalled back into the Army and never looked back….
"I was only a part-time racer. I had a regular job which paid well and did not want to lose that. It was a long way from Hoxie to any I.M.C.A. race. Mechanical help was good and available but they were not into racing. I had to learn that. Most of the time I would pick up somebody at the track to be a pitman. Sometimes they were pretty poor. There were several of us drivers on fairly good terms so that if one car went out one could pitch in and help my pitman if he was not very good….
"In the first races, I wore a football helmet. Then the rules got stricter and we had to have a racing helmet, then roll bars etc., etc. I could look it up but I believe I finished tenth in I.M.C.A. in 1955 and eighth in 1956 in spite of the disadvantages of running in (only) about one-half of the races."
~~~ Dick Jepsen
Dick Jepsen in the 1956 Oldsmobile 88 he raced with I.M.C.A. in 1956 and in which he won a 200-lap, 100-mile I.M.C.A. race at the Kansas State Fair in Hutchinson, Kansas on September 19, 1956. He destroyed this car in a roll over crash in an I.M.C.A. race at Topeka, Kansas on Memorial Day of 1957. Click your mouse on the photo above to see another photo of this car in the Oldsmobile dealership garage in Hoxie, Kansas.
Dick Jepsen's 1956 Oldsmobile 88 after he broke a rear safety hub and rolled the car several times during an I.M.C.A. Late Model Stock Car race at Topeka, Kansas on Memorial Day of 1957. Click your mouse on the photo above to see a different view of this wrecked race car.
All photographs on this web page are from the Dick Jepsen collection