Jalopy Races
Sportsman Park – Oakley, Kansas – July 24, 1960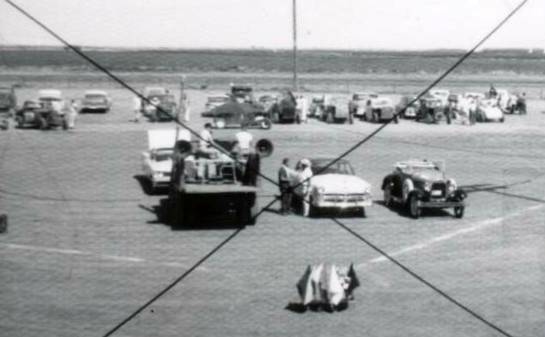 This photo of the infield pit area was taken on this day at Oakley
Oakley Graphic
Thursday - July 21, 1960 – Front Page:
Baseball, Jalopy Races . . .
BIG SPORTS WEEK END
It's a big week end for spectator sports in Oakley. There's a boys' baseball tournament, and resumption of jalopy races.
Both events will be at the grandstand…
The Oakley Junior Chamber of Commerce is sponsoring Jalopy races here, resumed after a lapse of two years. At the last race, in August, 1958, a driver was fatally injured on the dusty, flat track.
Jaycees members have put many hours hard work on the track, packing dirt and constructing embankments around curves.
Said WaKeeney drivers who inspected it last week, "It's the nicest track in Western Kansas."
Frank Kaiser and Gilbert Pracht, members of the Jaycees race committee, said an excellent turnout is expected for the races at 2 p.m., Sunday. Drivers from Western Kansas and Eastern Colorado will compete.
Races will be held every other Sunday, with the next one scheduled for August 7.
Events will include qualifying races, "A" & "B" features, Australian pursuit and the main event.
Two tons of calcium has been put on the track to hold down dust. . .
JALOPY RACES
SUNDAY, JULY 24
2 P.M. at Sportsman's Park
RACES WILL BE HELD HERE
EVERY OTHER SUNDAY
Next Race
SUNDAY, AUG. 7th
2 Hour Jalopy Program of Thrills
8 RACES
Including Qualifying Races
A & B features,
Australian pursuit,
And Main Event
Sponsored by
The Oakley Junior Chamber of Commerce
ADMISSION: Adults $1.00   Grade School 50˘
Oakley Graphic
Thursday - July 28, 1960 – Front Page:
Webmaster's Note: There is a photo of Nut Cokeley of Liberal, Kansas in his red #07 jalopy - a Model A Ford five-window coupe and an unknown driver in No.77 (1939 or 40 model) coupe, rounding a curve during an Oakley race on July 24, 1960. The caption for the photo reads:
BANG-UP SUCCESS was the resumption of jalopy races, sponsored by Jaycees in Oakley Sunday. Champion driver who won feature and kangaroo races was N. Cokeley, Liberal. There were a couple of spin-outs and one jalopy rolled, but no one was hurt among the 12 cars entered. Jaycees said the event grossed about $600, enough to make it pay. Prize money came from gate receipts, and Automotive Parts Co. chipped in another $10. Here, driver Bill Haviland (background) nonchalantly watches race go by after his vehicle spun out. Haviland drove a car owned by Robert Lorenz, WaKeeney, a son-in-law of the D.E. Haworths.
Webmaster's Notes: Bill Haviland was from Salina, Kansas.
According to the personal records of Clarence "Nut" Cokeley, he won the trophy dash and the Australian Pursuit collecting $5 in prize money for the latter. His records do not mention the feature race. Cokeley's records do say that Bert Davis won the consolation race this day for which he was paid $5.
This photo was taken just before the trophy presentation to #7 Nut Cokeley after he had won the trophy dash on this day. Click your mouse on this photo to see another that was taken at the conclusion of the trophy presentation.
Clarence "Nut" Cokeley of Liberal, Kansas drove this car at Oakley on this date
The photographs on this web page were taken by Dorothy Cokeley
Return to the History of Automobile Racing at Oakley, Kansas home page