Sportsman Park – Oakley, Kansas
Friday Night1 - July 4, 1952
U.M.A.C. Sprint Cars
This is the 180 H.P. Chrysler V8 powered big car that Bud Manning drove to victory in the feature race at Oakley, Kansas on July 4, 1952. The car was owned by the Brown Motor Company of Oberlin, Kansas. Standing left to right are: Joe Brown, Bud Manning, Don Brown, and Leslie Brown – Pattie Brown collection
Click your mouse on the photo above to see another of Bud Manning standing beside this same car – Dave Russell collection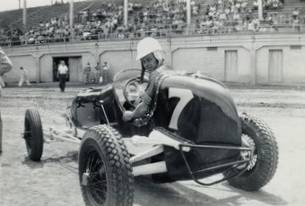 Mickey McCormick is shown here with the #7 Frank Baldauf owned, Wayne Chevrolet powered, big car – Tommy Madison collection
TIME TRIALS – 1 LAP
TROPHY DASH – 6 LAPS
FIRST HEAT – 6 LAPS – Fastest cars from Time Trials
SECOND HEAT – 6 LAPS
THIRD HEAT – 6 LAPS
MATCH RACE – 6 LAPS
FEATURE – 15 LAPS
Mickey McCormick was leading the feature in the 11th lap when an axle broke but he managed to finish the race in third place.
Bud Manning had challenged McCormick until loosing a wheel on the 12th lap.
The UMAC had scheduled a conflicting race on this date at Russell, Kansas thus splitting the already slim number of entrants that were competing in UMAC races.
"Commadore White Here - Oakley will be honored Friday night with one of Auto Racings all time greats. Mr. Commodore White has a wonderful record as one of the Triple A's great drivers. He is just past his 70th birthday and is still driving. Watch this old timer in his beautiful Rutherford race car No. 8 perform. It is amazing what this grand old man of racing can do." – Front page of the July 4, 1952 issue of the Oakley Graphic
Commadore C. "C. C." White (1901–2000) was born at Warrensburg, Missouri and lived most of his life at Emporia, Kansas. Disfiguring head injuries suffered in a racing accident in the 1930s were severe enough to curtail his driving career but he continued to own competing racing cars into the early 1950s and even made one last start as a driver in a UMCA sanctioned big car race at Dodge City, Kansas on June 29, 1952 finishing third in his heat race. As a member of Emporia's antique auto club, he also restored old racing cars. White passed away at Burlingame, Kansas and is buried in the Cottonwood Friends Cemetery west of Emporia, Kansas. Incidentally, he was actually only 51 years old when he made this appearance at Oakley, Kansas.
Walt Moffatt of Denver, Colorado
L. A. Ward photo from the book Big Car Thunder by Bob Mays
Bud Manning

Raymond Manning collection

T. E. Russell

Leroy Byers collection

Walt Moffatt

Leroy Byers photo

Mickey McCormick

Jim Edwards photo
1 This was the first night auto race ever held at Sportsman Park. An article in the local newspaper noted that the crowd was much more comfortable and there was much less dust due to the racing program being run at night.
2 Clarence Eugene "Bud" Manning (1922-1971) finished 4th in the final UMCA sprint car points in 1952.
3 An article on the front page of the July 4, 1952 issue of the Oakley Graphic states that sprint car driver David Linn, who was third in UMCA points, was a brother to Indy car driver Jack Linn. The facts are that Thornton Elgie "T. E." Russell (1918-1967) of Denver, Colorado was third in UMCA points at the time but he also held an AAA competition license so he drove under the aliases "David Linn" and "David Lynn" when he wasn't racing up Pike's Peak. The aliases were derived from a combination of the names of his son, David, and his daughter, Ruth Lynn. There never was an Indy car driver named Jack Linn.
4 Walter "Walt" Moffatt (1915-1983) was an experienced midget driver who finished 17th in the Pikes Peak Hill Climb for AAA Championship cars in 1951 and 8th in the UMCA sprint car points in 1952.
5 "Championship Car Entered - An entry from Wichita brings a car that qualified at Indianapolis just under 130 miles an hour, which wasn't quite fast enough. At that time, it had a 270 Offenhauser engine in it. In order to race under UMCA. rules, the car had to have a stock engine and it is now powered by a big Mercury engine. This is a beautiful blue car and carries No. 6 on it. It will be driven by Bob Murra who is really a good driver and does a wonderful job on the track. Bob is also a soldier now stationed in Wichita. He doesn't get to drive often, but will be at Oakley for the July 4th meet." – Front page of the July 4, 1952 issue of the Oakley Graphic.
Apparently, Bob Murra was unable to appear at Oakley and was replaced in the car by Walt Moffatt. It is also doubtful that there ever was an attempt to qualify this car for the Indianapolis "500".
6 Donald Healey of the Donald Healey Motor Company (later Austin-Healey) of Warwick, England built a Nash powered racing car and entered it in the "24 Hours of LeMans" sports car race in 1950 finishing fourth. The Nash Motor Company was so impressed with the effort that they developed plans for a Nash-Healey sports car utilizing a modified 255 horsepower, 6-cylinder Nash Ambassador engine of 234.8-cubic inch displacement (3847 c.c.) with an 8:1 compression aluminum head, 7-main-bearing crankshaft, intake manifold sealed-in-head, and two Skinner's Union side-draft carburetors.
The Nash-Healey sports car never went into production but Curtis C. "Curt" Stockwell (1904-1974) of Denver, Colorado was able to obtain one of the rare Nash-Healey engines and the backing of the Nash Motor Company for an AAA championship car that he owned. The car was driven by T. E. Russell. When not racing the car up Pike's Peak, the pair passed it off as a sprint car at UMCA and IMCA sprint car races in Kansas and Nebraska. Those sanctioning bodies reportedly knew of the deception but were short on legitimate entries and allowed the car to compete. The Nash-Healey was successfully able to compete with the Offenhauser sprint cars that were dominant at the time.
7 Frank Jackson Baldauf (1900-1970) of Hutchinson, Kansas was the father-in-law of Mickey McCormick. Baldauf's father, John Henry Baldauf, was a partner in an automobile dealership in Wichita, Kansas and also owned racing cars as early as 1910.
8 Louis Henry "Lou" Willschau (1926-1985) drove the #11 Embry special big car.
9 Willard Victor "Mickey" McCormick (1920-1999) is buried at Seymour, Indiana.
Return to the History of Automobile Racing at Oakley, Kansas
Leroy Pickrel
Leroy Eugene. Pickrel