UMCA SPRINT CARS
Bud Manning Benefit Race
Sportsman Park – Oakley, Kansas
Monday Night – August 4, 1952
Dave Carter, alias Johnny Thompson, in the Hanestad HAL4 – Don Radbruch collection
TIME TRIALS – 1 Lap
New Track Record: 26.16
PLACE

DRIVER

DRIVER FROM

CAR OWNER

OWNER FROM

ENGINE

1

Dave Carter1

Stockton, CA

Hank Hanestad2

Alameda, CA

HAL4

TROPHY DASH

PLACE

DRIVER

DRIVER FROM

CAR OWNER

OWNER FROM

ENGINE

1

Mickey McCormick3

Wichita, KS

Harold Shaw

Grainfield, KS

FEATURE

PLACE

DRIVER

DRIVER FROM

CAR OWNER

OWNRE FROM

ENGINE

1

Dave Carter1

Stockton, CA

Hank Hanestad2

Alameda, CA

HAL4

2

David Linn5

Denver, CO

George Syler

Denver, CO

HAL
This was a benefit race with all proceeds being donated to the Bud Manning Fund to help with his medical expenses, after he broke his neck in a race accident at the Oakley track, on the night of July 19, 1952. Only eight cars entered. Total proceeds from the race that were donated to the fund came to $613.00.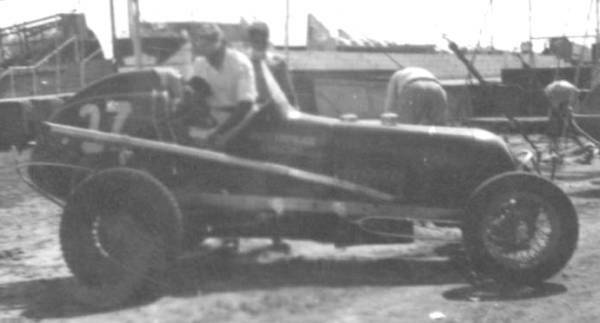 This sprint car; owned by Harold Shaw of Grainfield, Kansas; sponsored by the Shaw Motor Company of Grainfield; and driven by Mickey McCormick of Wichita, Kansas won the trophy dash on this date – Swart collection
T. E. Russell of Denver, Colorado a.k.a. David Linn is shown here standing at left with a sprint car he drove for car owner George Syler (center) – Joe Taylor photo published in the book Valley County THUNDER, The History of Racing at Ord, Nebraska by V. Ray Valasek and Bob Mays
1 It is not known why Dave Carter (1928-1955) of Stockton, California used the alias "Johnny Thompson" when he drove the Hanestad Offy #63 at Oakley, Kansas. Also see footnote #4 below.
2 Henry Walter "Hank" Hanestad (1917-1975) was from Alameda, California.
3 Willard Victor "Mickey" McCormick (1920-1999) was born in El Paso, Texas; died in Indiana; and is buried at Seymour, Indiana.
4 Newspaper accounts say the Hanestad engine was an Offenhauser but it appears to have been a HAL instead.
5 "David Linn" was an alias used by T. E. Russell of Denver, Colorado when he competed in races that were not sanctioned by the A.A.A. such as these at Oakley.
Return to the History of Automobile Racing at Oakley, Kansas