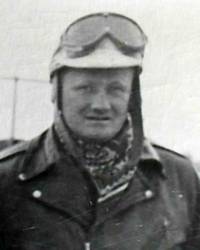 Bud Manning
Jalopy Races
Sportsman Park – Oakley, Kansas
Sunday Afternoon, May 31, 1953
Fifteen pre-1942 stock cars competed in these races sanctioned by the High Plains Stock Car Racing Association and sponsored by the Oakley Jaycees. Bud Manning was president of the Oakley Jaycees at the time and was also probably the head of the High Plains Stock Car Racing Association as well. Other than the very sketchy newspaper account below, no results of these races have been found to date.
Oakley Graphic
Thursday, June 4, 1953
Stock Car Races Provide Thrills and Spills Here
Racing fans in this locality got their money's worth in excitement and thrills Sunday afternoon (May 31, 1953) at Sportsman Park. The stock car races sponsored by the Oakley Jaycees were thrillers and the accidents were chillers. No one was injured.
The Jaycees were guaranteed 15 cars and that is the number that appeared. Fourteen of the cars started the 25-lap A feature.
On the seventh lap of the feature race the first wreck happened. Two cars hooked together and one was thrown high into the air to come down its nose and after several contortions, it ended on its side a total wreck.
The race was slowed a couple of laps to clear the track of wreckage. The Blankenburg wrecker just pushed the wrecked car off the track and the race was resumed.
A short time later another car went astray and rolled over five times before stopping. The wrecking crew administered last rites to it by pulling it off the track onto the end field.
Other cars kept running on and off the field for the full 25 laps. Cars were bumping each other and jockeying for position during the entire race. Only injuries were to the cars.
Yes, the people had their share of thrills and spills Sunday and the Jaycees are going to bring them back again.
Due to the wind the track dried out faster than water could be kept on it. That will be remedied for the next race with an application of salt and the dust will cut to minimum.
Little Miss Sally Sue Daniels of Rexford gave the trophy to the winner of the trophy dash.
By the time the next races were run at Oakley on August 4, 1953, Mel McGuire had assumed the presidency of the Oakley Jaycees.
If you know anything more about these races or those who competed in them please contact Bob Lawrence.
Return to the History of Automobile Racing at Oakley, Kansas