Automobile Races Run at Oakley, Kansas on
THANKSGIVING DAY – November 25, 1926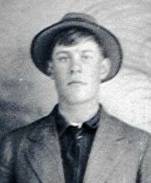 Walter F. Krhut
In spite of bad weather, this race was well attended. Unfortunately, only four cars showed up for the race that paid $200 to win, $100 for second, and $50 for third place.
Walter Krhut1 of Collyer, Kansas won the 50-mile race driving the #11 Frontenac that he had purchased from Jim White of Sharon Springs, Kansas. This was the same car that White drove to a win in the Fall Speed Classic run at Oakley on October 9, 1926.
Harry Kurtz2 of Voda, Kansas finished second in his Buick 6 which had the wheelbase shortened since the last race at Oakley.
One of the four competitors broke an axle at on the starting line and was unable to continue.
1 Walter Frank "Guts" Krhut (1893-1984) sustained serious injuries in a racing accident at Belleville, Kansas on September 1, 1927. He spent three days in the hospital and did recover eventually to return to the sport. He is buried in the Union Cemetery at Collyer, Kansas.
2 Harry Kurtz (1893-1965) was the Buick dealer at Oakley, Kansas for a number of years.
Return to The History of Automobile Racing at Oakley, Kansas home page