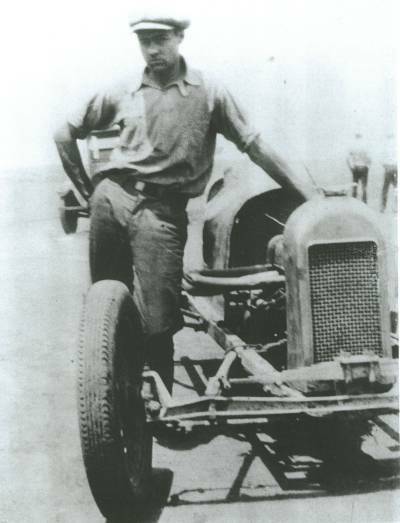 Bill Mathews with his Frontenac
Taken after his first win in a race at
Cushing, Oklahoma in 1929
Bill Mathews
1908 – 1971
William Max Albert Feja was born on March 10, 1908 at Ft. Smith, Arkansas and added the surname Mathews to his name at the age of 15 after his mother married George E. Mathews. Bill owned and drove the Frontenac at right in races in the Midwest in the late 1920s and early 1930s but gave up driving himself after being involved in a fatal accident during a race at Fair Park in Oklahoma City on July 10, 1932.
By the mid-1940s, Mathews had moved to Southern California where drivers such as future Indy "500" winner Rodger Ward drove Mathews' midgets at racetracks such as Balboa, Culver City, and Gilmore Stadium.
Bill passed away on July 10, 1971 at Van Nuys, California and is buried in Forest Lawn Memorial Park in Hollywood, California.
Rodger Ward

at Balboa, CA – 1948

Chief Mechanic – Bill Mathews

Rodger Ward

in a Kurtis built car owned

by Bill Mathews - 1949

Bill Mathews purchased this

rail midget from Sam Hanks in

1946 and got D. W. McCauly

to drive It for him.

Rodger Ward

in a Lysle Greenman owned car

Chief Mechanic - Bill Mathews
All of the photographs on this page are from the Bill Mathews family collection