What I Know About the Life of My Father
Robert Lee "Bob" Lawrence
1921 – 1977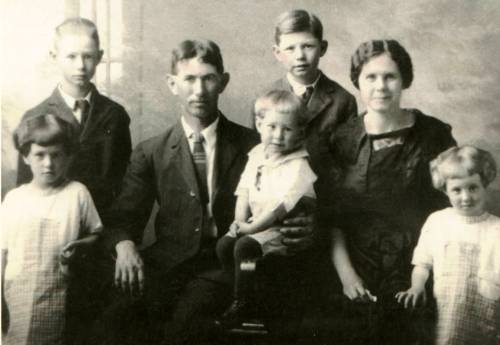 The Ed Lawrence Family around 1924
Left to Right: Ruthella Lawrence, Kenneth Lawrence, Edward Lawrence, Bob Lawrence, Loyd Lawrence, Dena Lawrence, and Alta Mae Lawrence
Bob Lawrence on "Roanie". This photo was taken in the yard of the house at rural Burden, Kansas where Bob grew up.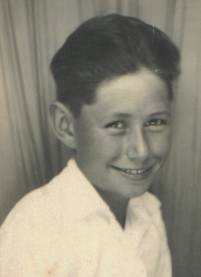 Bob Lawrence - 1935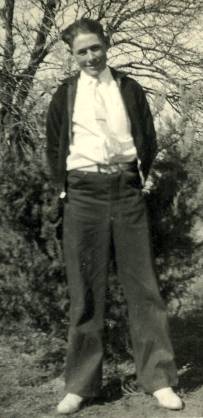 Bob Lawrence - 1938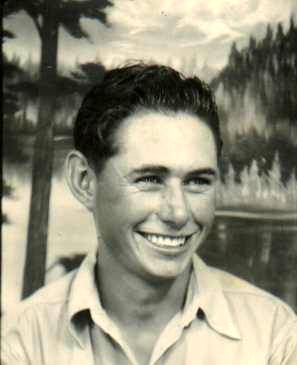 Bob Lawrence - Summer, 1941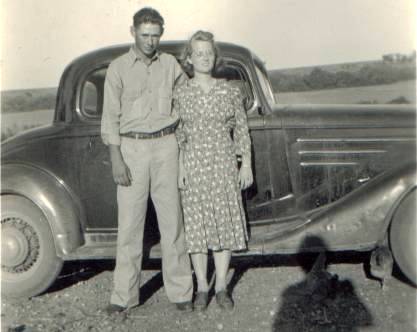 Bob Lawrence and Irma Dean Brashear
August 17, 1941 with Bob's 1934 Chevrolet coupe.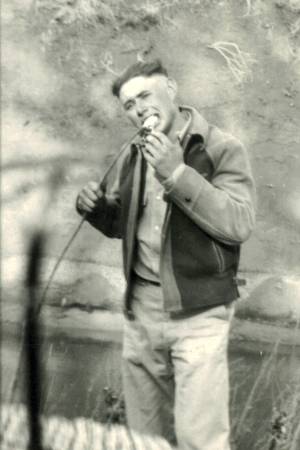 Bob Lawrence enjoying a marshmallow
March 29, 1942
Wedding Photo - July 1, 1942
Left to Right: Cleo Cullumber, Otto Brashear, Bessie Brashear (just visible between Otto and Faye), Faye Brashear, Ed Lawrence, Irma Dean Lawrence, Dena Lawrence, Bob Lawrence, and Rev. Val Bridenstine.
The formal wedding photograph - July, 1942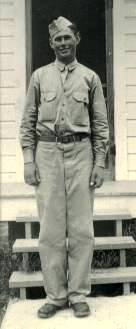 Bob Lawrence at Camp Robinson, Little Rock, Arkansas - 1942
Bob Lawrence in the Southern Pacific Theater during World War II. Notice his deep suntan.
Four Generations
Left to right: Bob Lawrence (1947-), Bob Lawrence (1921-1977), Dena Lawrence (1894-1992), and Amelia Cheever (1855-1953).  Amelia could remember attending a speech as a young girl in Illinois, with her father that was being giving by Abraham Lincoln.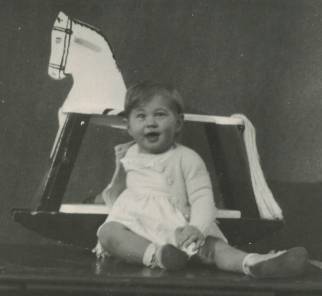 Larry Lawrence with "Rocky" in 1948.  Rocky was one of two rocking horses that Otto Brashear built for grandchildren that year.  Pat Cullumber got the other one.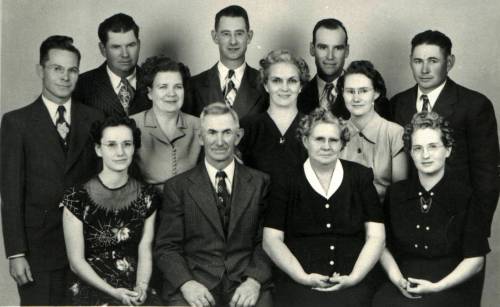 Ed Lawrence Family - 1950
Front Row, Left to Right:
Ruthella Lanier, Ed Lawrence, Dena Lawrence, Irma Dean Lawrence.
Middle Row, Left to Right:
Clarence Lanier, Juanita Lawrence, Mae Lawrence, Alta Mae Sumner.
Back Row, Left to Right:
Loyd Lawrence, Kenneth Lawrence, Howard Sumner, Bob Lawrence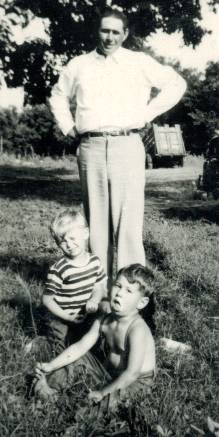 Bob Lawrence watching sons Bob, left; and Larry, play in the mud around 1950.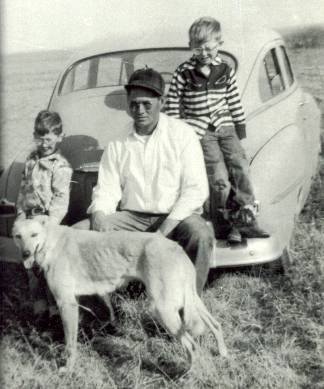 Bob sitting on the back bumper of the family's 1950 Plymouth with sons, Larry, left; and Bob, right. The dog's name was "Queenie". Bob kept greyhounds from time to time to run rabbits and coyotes with.
Family Portrait - 1955
Bob; Irma Dean; Bob, left; and Larry, right.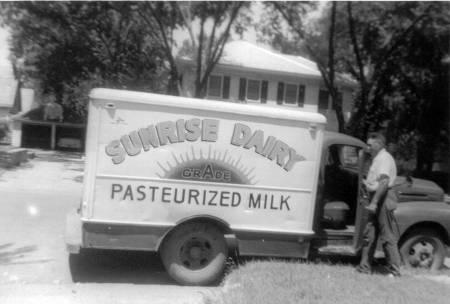 Bob Lawrence when he was a route driver for Sunrise Dairy in Winfield, Kansas - 1958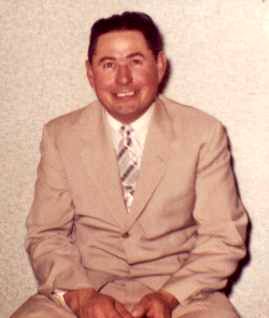 Someone snapped this photo just after someone told a joke in February, 1959
Boating on Lake Blackwell in Oklahoma
Bob Lawrence with sons Bob, in back; and Larry.
Bob showing off a gun rack that son, Bob had made for him in wood working shop at school in 1961. The guns, top to bottom: Rimmington .22 single shot rifle, Stevens .20 gage shotgun, Japanese 7.7 caliber rifle war souvenir.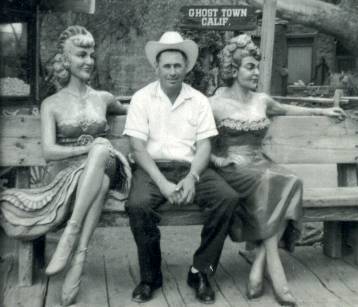 Bob at Knotts' Berry Farm in Southern California in July of 1962
Left to right: Larry Lawrence, Bob Lawrence, Irma Dean Lawrence, Bob Lawrence, c1965.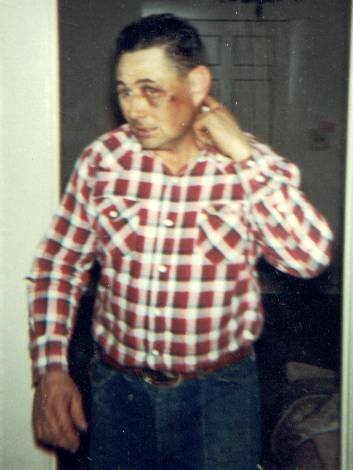 Bob's face was rearranged by a chain while trying to shackle a cow in the meat packing plant in February, 1966.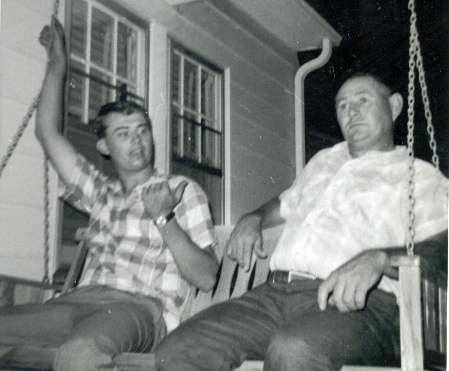 Bob Lawrence with son, Bob Lawrence in 1970.
Proud Grandparents
Irma Dean holding Kevin Lawrence and Bob holding Ann Lawrence, April, 1971
Bob and Irma Dean Lawrence - 1972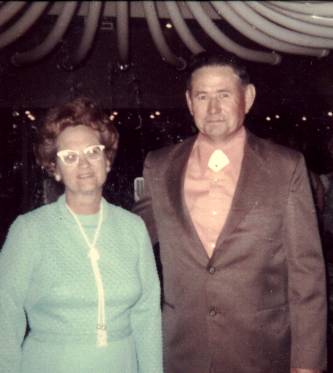 Bob and Irma Dean in the lobby of their hotel in Paris, France on their trip there in the spring of 1973.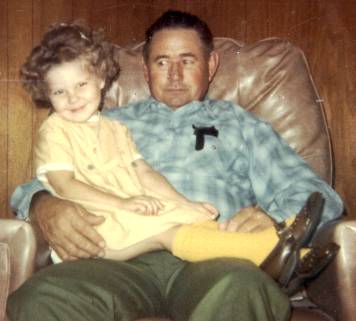 Bob with granddaughter, Ann Lawrence, around 1974.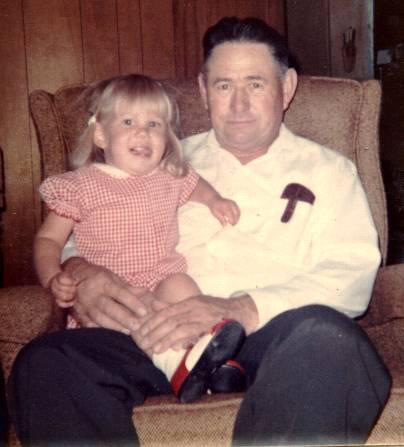 Bob with granddaughter, Laura Lawrence, in 1974.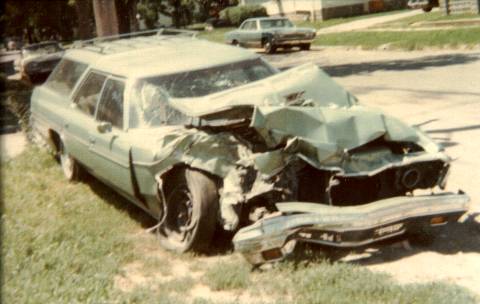 A wheat truck pulled from a side road in front of Bob and Irma Dean on July 9, 1975. Their 1976 Chevrolet Impala station wagon was a total loss.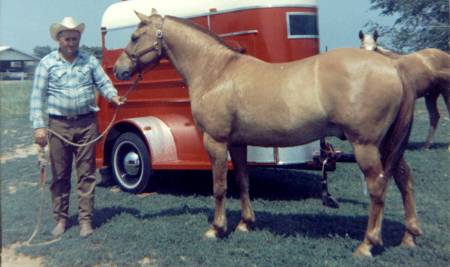 Bob with his registered pure-bread quarter-horse, "Sonny"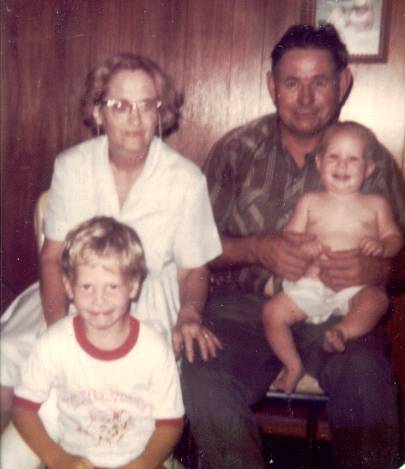 Bob and Irma Dean Lawrence with grandsons Kevin Lawrence, left; and Roger Lawrence on Bob's lap – 1975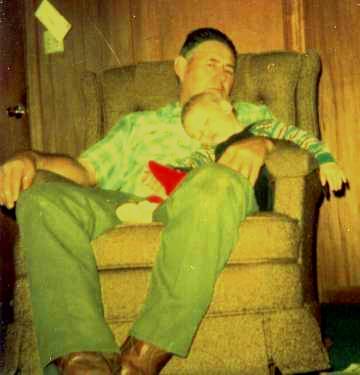 Nap Time
Bob Lawrence with grandson, Roger Lawrence in 1976.
Going Coyote Hunting - February, 1976
Bob holding Roger, Kevin, and Bob Lawrence
Bob Lawence (right) with his brother-in-law, Carl Stanley. This photograph, taken December 26, 1976, is believed to be the last picture ever taken of Bob.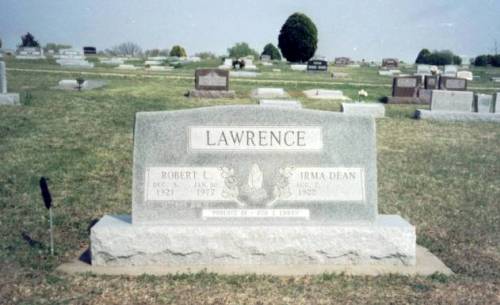 Highland Cemetery - Winfield, Kansas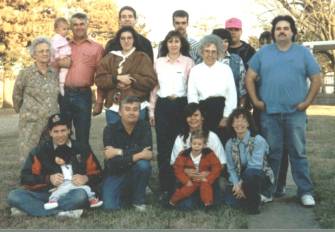 Growing Family - Christmas, 1993
Front, left to right: Kevin Lawrence, Jennifer Davis, Bob Lawrence, Janet Lawrence, Shawn Perry, Connie Lawrence
Standing, left to right: Irma Dean Lawrence, Kiley Perry, Larry Lawrence, Charlene Lawrence, Roger Lawrence, Laura Perry, Kevin Perry, Helen Brunk, Ann Davis, Monte Lawrence, Kris Lawrence, John Davis
Return to Bob Lawrence's home page.
Robert Lee "Bob" Lawrence was my father. He was a good, hardworking, Christian man who passed away long before any of us were ready to let him go. Since his grandchildren did not really have time to get to know him, this work is dedicated to all those who came along too late to have known him well, if at all.
Bob was the youngest of five children born to Edward Austin Lawrence and Mary Ardena "Dena" (Cheever) Lawrence. He was born on December 3, 1921 in a twenty-six-year-old house eight miles northeast of Burden in Windsor Township, Cowley County, Kansas which had been built by his maternal grandfather. Bob did not live anywhere else until after he was married.
Bob attended school through the eighth grade, graduating that in 1938 at the Mt. Vernon School one mile north of his home.  His mother had attended that same school. Bob liked school and was an average student. Mt. Vernon did not have classes past the eighth grade so Bob would have to have gone into Burden for high school but his parents thought it better that he quit school and remain to work on the family farm. Bob protested the decision but his parents prevailed.
Chores on the Lawrence family farm mostly centered around caring for cattle, sheep, pigs, chickens, mules, and horses but it was the latter that he seemed most interested in. He had learned to ride at a young age and told that, once, while chasing a coyote across a pasture on horseback, his horse stumbled and fell breaking Bob's nose. Another time, while chasing another coyote across a neighbor's snow-covered pasture, he rode off into an excavation filled with snow where an old barn had once been dug into the hillside.
Then, there was the time that Bob; his sister, Alta; and another girl, a friend of Alta's; were at home on the farm by themselves. They had an especially ornery horse at the time that his parents had instructed him to stay away from when they were not there. Bob had other ideas and, thinking he would do a little showing off for the girls, mounted the horse and started to ride over by where the girls were. The horse bolted and ran down a hedge row with one of the hedge thorns becoming imbedded in the inside corner of his left eye. It was about a week before he mentioned the thorn but it finally got to hurting so badly that he told his mother about it. The thorn was removed and his eyesight was not damaged but the right one-third of that eye remained red, permanently bloodshot.
One Halloween, a number of teenage boys, including Bob, spread out across eastern Cowley County, Kansas in search of farm machinery. That they found, they quietly latched onto, took to Cambridge, Kansas, and parked it in the middle of the main street. There, they got caught and the marshal threatened to take them all to jail although he did not. It took about a week for all the farmers to figure out what belonged to whom and get it all taken home again.
Bob took up competitive calf roping as a teenager entering the Eastern Cowley County Fair Rodeo at Burden and various jackpot ropings in the area. His biggest win was first place in a jackpot roping one Sunday afternoon in the 1930s at Atlanta, Kansas.
On one occasion, Bob was driving his parent's car home after a big rain. The road was very muddy and, although he was only going about five miles per hour, the car slid off the right side of the road, into the ditch, and tipped over onto its right side. He was about two miles south of Latham, Kansas at the time but he walked the rest of the way. He returned later with his father. They righted the car and pulled it home where, after a good cleaning, it was as good as ever.
The first car that Bob had of his own was a black 1934 Chevrolet coupe that he purchased well used. It would only run about thirty-five miles per hour wide open he always contended that was fast enough. He often drove down the Grouse Creek Road to visit his brother, Loyd, who lived southwest of Cambridge and occasionally Bob would see a young lady feeding hogs on the Goodrich farm. When he did, he would honk his car horn and wave to her. One evening, when Loyd had invited the young lady, Irma Dean Brashear, and her parents to his home, Bob made a point to stay around to meet her. Not long after that, they started dating.
Among the ways that Bob had of making money was shooting crows, trapping skunks and other wild animals for the bounties paid for them by local governments for their pelts. At the time, the bounty on crows was six cents each while shotgun shells cost a nickel a piece. That combination made Bob a careful shot.
One Sunday evening, he had driven to Winfield, Kansas to take Irma Dean to church. It was hot in the church that night and, although Bob had bathed, the heat revived the faint odor of skunk from his skin left from his trap run the night before. The smell continued to become more noticeable until, finally, Bob and Irma Dean felt they should leave.
Bob and Irma Dean were married on his mother's 48th birthday, July 1, 1942 at the Upper Timber Creek Friends Church parsonage east of Atlanta, Kansas. The best man was Cleo Cullumber while Irma Dean's sister, Faye Brashear, "stood up" with Irma Dean. After the ceremony, Bob and Irma Dean set out for Wichita, Kansas but had only gotten a few miles when they had a flat tire. Bob slipped into the woods, changed from the wool suit he had worn at the wedding, then returned, changed the tire, and they continued on to Wichita to visit Bob's brother, Kenneth. From there, they drove to Augusta, Kansas where they went roller skating before driving on to an apartment they had rented in Winfield, Kansas. As a result of Bob's walk in the woods, his suit was covered with "beggar lice."
World War II had begun and Bob, fearing he might be drafted, decided to invest what money he had by purchasing two draft horses and two good mules. Sure enough, he received orders to take his draft physical eight days after the wedding in Ft. Leavenworth, Kansas. He then had to report again to Ft. Leavenworth for induction on July 23, 1942.
Five days after his induction into the army, he was put on a train for Little Rock, Arkansas where he spent his first two months in basic training and then medical training at Camp Robinson. He was an ambulance driver and medic but hated the work. From there, he was sent to Camp Carson near Colorado Springs, Colorado. Irma Dean rented a room in Colorado Springs and they were able to spend their off duty hours together. The Colorado altitude bothered Irma Dean quite a bit and she finally developed pneumonia. She went to a doctor the very day that Bob was to be shipped overseas. The doctor called the Red Cross who contacted the army and got Bob out of the "bull pen." They put Bob and Irma Dean on a train to take Irma Dean back to Kansas. After just two days at home, Bob went back to Camp Carson but his outfit had already been shipped out and all they had left there was cavalry. They asked Bob if he could drive a team of mules. He said he could so they assigned him to driving a manure spreader for the 91st Division of the First Cavalry.
From there, they went to Camp Hale at Leadville, Colorado where he was reassigned as an "Animal Packer" (he called it "Mule Skinner") working with pack mules. One of their practice drills was to load mules down with cartons of raw eggs and climb mountains (including Pike's Peak) with the mules without breaking any of the eggs. It was while at Camp Hale that he also attended Cook and Bakers' school. Early in the summer of 1943, he rode one mule and led another from Camp Hale to the Donana Firing Range in New Mexico where his division camped out in the desert. While he was at Donana, the army decided they no longer needed pack mules. They shipped the whole division to Ft. Bliss at El Paso, Texas where they were mechanized and became the First Cavalry's 99th Field Artillery Battalion of which Bob was assigned to Battery B.
On the morning of July 2, 1943, the 99th Field Artillery Battalion was ordered to march around the parade grounds at Ft. Bliss and then into a large corral surrounded by a high wire fence. Thus, Bob became one of the few people to ever find himself in the "bull pen" twice. The gates were locked, guards were placed around the perimeter, and the assembled were then informed they would be spending the night camped out there. The next morning, they boarded a train for California and went by ship from there to the "Pacific Theater."
They arrived in Brisbane, Australia three weeks later where Bob was made a "Light Truck Driver" and assigned a jeep. He was also promoted to the rank of Tec. 5. Three months later, he was promoted to corporal and his job title changed to "Field Lineman." Years later, Bob would tell that he declined any further promotion saying that he was a draftee, not there to make a career of it, and that he did not want the added responsibility that came with the higher ranks. He also felt that, if captured by the enemy, it would be the officers who would receive the most intense interrogation.
In January of 1944, Bob's unit was loaded onto a ship and they sailed with a fleet to Oro Bay, in Papua New Guinea on what was the beginning of the "Bismarck Archipelago Campaign."
On February 29, 1944, they invaded the Admiralty Islands. The Allies were in control of the sea lanes and had cut off supply shipments to the islands. Low on supplies and out-gunned by the Allied war ships, the Japanese usually just surrendered as the fleet sailed by. If they did not, a warning shot from one of the war ships usually convinced them to do so. The ship's guns had a range of about eighteen miles and, if an island was large enough, the Japanese would try to move toward the center to get out of the guns' range. In those instances, American soldiers had to be put ashore to determine the enemy's exact location, number, and how best to root them out. Bob's job was to drive the jeep which carried a large radio and its operator which were needed to keep in touch with the fleet. On one such mission, they located the Japanese and an ammunition dump about twenty miles inland. When the radio operator called in the location, the fleet commander replied that the target was out of range so more troops would be put ashore to engage them. At that point, a gunnery captain came over the radio saying that he thought they could hit the target if the commander would allow them to try. The commander said it could not hurt and told the radio operator in Bob's jeep to give the gunner coordinates. He did so and the first shell landed about a hundred yards from the ammunition dump. The radio operator had just started sending new coordinates when the defenders surrendered.
There was a rifle in Bob's jeep and he carried a holster with a .45 caliber pistol during the time he was overseas. Ammunition was plentiful and he spent a lot of time target practicing by shooting at coconuts. When asked if he had ever shot at an enemy soldier, he replied that he had. Asked if he ever hit one, he replied that he did not know as they would dive for the ground when shot at whether they had been hit or not.
Passing through the Marshall Islands, they sailed on to Luzon in the Philippine Islands where they landed on January 27, 1945. Luzon is the largest of the Philippine Islands, it being about the size of the state of Kentucky.
Gen. Douglas McArthur feared the Japanese soldiers guarding the various internment camps would execute the prisoners if they had to retreat so he ordered a special 700 man liberation unit assembled to cut through enemy lines quickly and liberate the prisons before the Japanese could determine what they were up to. Since the terrain was primarily jungle, this unit was made up primarily of foot soldiers and they took only two vehicles with them – a jeep to carry the radio equipment and a bulldozer to help clear the way. Bob was assigned the drive the jeep. They traveled light on field rations and radioed for necessary supplies such as fuel, tires, and parts for the vehicles. Supply airplanes would drop the needed supplies by parachute at the coordinates supplied by the radio operator.
At New Bilibid Prison at Muntinlup about 25 miles south of Manila, they engaged the enemy, won the battle, and successfully liberated the prisoners. It was said to have been the largest Japanese internment camp in the Pacific.
Early on the morning of February 3, 1945, three supply planes dropped their supplies for the American troops and then flew low and fast over Santo Tomas Interment Camp in Manila taking Japanese fire as they went. One of the pilots threw his flight goggles out and a prisoner in the camp caught them before they even hit the ground. Around the edges of the goggles, the pilot had written, "Roll out the barrel. Santa Claus is coming. The gang's all here!" A few hours later, the bulldozer crashed through the front gate of the internment camp and a short battle ensued. Bob would later say that liberating prisoners was the most significant accomplishment that he took part in during the war.
After liberating the prisoners in the Santo Tomas Interment Camp, the 99th Field Artillery Battalion's mission was to sweep through the Luzon Valley and push the Japanese back to the sea where the fleet's big guns could assist in the battle. The task required a large number of troops but, due to the lack of roads and the enemy sabotage of what roads and bridges there had been, only one vehicle, Bob's jeep, was to make the whole trip. Most of the way, the Japanese fought a little and then pulled back and did not offer all that much real resistance. The terrain was a swampy jungle and a number of soldiers were assigned to walk with, push, and even occasionally carry the jeep. The trip took several days and, not far from the conclusion, Bob came down with cholera and was sent back to a hospital. When the Japanese were finally backed up to the sea, they put up a ferocious fight before they were defeated. Many of the soldiers who had traveled up through the valley with Bob became casualties in that battle and Bob believed that getting the cholera when he did may have actually saved his life.
After the Philippines, the fleet sailed to Yokohama, Japan, landing there on September 2, 1945. On September 8, 1945, the First Cavalry became the first division to enter Tokyo, Japan. During a river-crossing in Japan, a jeep that Bob was driving sank and was mired so deeply in the mud that it had to be abandoned.
Irma Dean had always thought that Tokyo was a beautiful city and had asked Bob to bring her something if he ever got there. The city was nothing but rubble by the time he arrived but he remembered her request. Finding nothing else, he picked up a rock from the ground to take back to her.
Most of Bob's time in Tokyo was spent as being part of the occupying force. Part of that job was to collect, inventory, and stack enemy weapons. An officer told the men they could each take a Japanese rifle home with them if they wished so Bob picked out a new 7.7 m.m. rifle with a bayonet. They learned that Ralph Umber would be returning to the States before Bob so he sent the gun home with Ralph. It would be a good ten years after the war ended before Bob would retrieve that rifle and then, only due to the persistence of his son, Bob, reminding him to do so. Bob finally asked for the gun back and Ralph returned it but without the bayonet. Ralph said he had no idea what had happened to that.
Bob left Japan on October 8, 1945 and arrived in California on October 19th. From there, he was shipped by train to Ft. Logan, Colorado where, on October 28th, he was issued $200.83 pay and given an honorable discharge. His decorations and citations included the Good Conduct Medal, the Philippine Liberation Ribbon with two Bronze Service Stars, the Asiatic Pacific Service Medal, and the American Service Medal. At the time of his discharge, Bob stood 5' 10" tall and weighed 156 pounds. He returned home to Kansas on a train.
Bob and Irma Dean rented a small farm just south of Dexter, Kansas but farming had changed while Bob had been away. Tractors were rapidly replacing work horses and mules and the investment Bob had made before the war was almost worthless by that time. He farmed by day and attended vocational school in Winfield on the "G. I. Bill" in the evenings. Bob became very ill during this time. He was found to have malaria and was treated by Dr. Brooks, the doctor who had delivered him. He had probably contracted it while he was in the army.
Bob and Irma Dean's first son, Robert Dean "Bob" Lawrence, was born on January 2, 1947 at St. Mary's Hospital in Winfield while they lived on this farm. In the spring of 1947, they used a "G. I." loan to purchase a farm southwest of Cedar Vale, Kansas.
Their second son, Larry Lee Lawrence, was born on January 1, 1948 at Newton Memorial Hospital in Winfield while they lived on the farm near Cedar Vale.
Bob's story was that they had tried to have the first baby born in the county in the new year each of those two years but had just missed the mark each time. He said they were trying to win the prizes offered by various merchants for the feat as they did not make enough money to really need the tax deduction they would have gotten if the boys had been born a few days earlier. Irma Dean always denied that his story was true.
By 1950, it was clear that farming was not supporting the family so they rented a house at the northwest edge of Cambridge. Bob got a job building bridges around Dexter on Kansas highway K-15. He was also milking some cows in the evenings. The family soon moved to the "Brewster Place" which was a small farm southwest of Burden but Bob kept his job building bridges.
Bob joined the carpenter union in 1951 and moved to Winfield. He became a finish carpenter and got a job helping to rebuild Richardson Hall at Southwestern College after it had been destroyed by fire some two years earlier. Richardson Hall was the largest building in Winfield at the time. He helped build a number of other structures in south central Kansas including, a power plant at the Winfield State Hospital and Training School. He also helped remodel a dormitory and a rehabilitation building at that facility. Other structures he help construct were the Art Building and Broadhurst Hall at Southwestern College in Winfield, St. John's College physical education building at the corner of Seventh St. and College St. in Winfield, the District Forty-eight South Vernon grade school near Winfield, the U. S. Highway 160 bridge over the Walnut River west of Winfield, the ready-mix concrete plant at 324 W. Eighth St. in Winfield, high school buildings at both Cedar Vale and Udall, Kansas, the grade school building and Methodist church in Udall, the Vocational School building in Winfield, a number of houses including those at 1405 Lynn St., 1704 Elizabeth St., and all of those addressed on Red Bud Drive in Winfield, and the Oaklawn housing subdivision near the south edge of Wichita. He also helped remodel the Burden High School building. He supplemented his income during this period by milking cows for Winfield's Duncan Dairy.
Bob usually parked his car in the same place on the street in front of a house in Udall when he worked on the high school building there in the early 1950's and he would usually eat his lunch in the car. In doing so, he became acquainted with the family who lived in the house and visited with them often. The building had not been completed long when it was destroyed, along with the rest of Udall, by a tornado in 1955. Bob hired on to help rebuild the building. He said it was an odd feeling building a building on the same foundation which you had already built one just like it before. Lunch time was more lonely though. The house he had parked in front of before was also destroyed and the whole family who had lived there had been among the casualties of the storm.
After a big rain one day, Bob was working on the highway bridge over the Walnut River when he saw a wall of water and a lot of debris come down the river and pass under the bridge. He learned later that the debris had built up behind a railroad bridge about a mile upstream and had dammed up the water until it caused the bridge to wash out.
Bob was working on the roof of the Vocational School building in Winfield when he fell through a hole. He managed to grab a steel beam high above the floor and hold on until other workers could rescue him. His only injury from the fall was a dislocated shoulder.
He did not like to tell people that he had helped build the houses in the Oaklawn subdivision in Wichita. The houses were built on the assembly line method with workers performing just one task on each house before moving on to the next house. Bob said they were not allowed enough time to do the job right so the workmanship was so shoddy that he did not want to claim having done any of it. He had needed the job and so had done the work but he never was very proud of the way they turned out.
During a slowdown in the construction business, he went to work feeding cows for the Sunrise Dairy at Winfield and was soon driving a truck and making deliveries for them to Winfield grocery stores.
By 1959 and realizing that he was starting to get a little older, Bob came to the conclusion that he needed a job with a better future. He applied at the Maurer-Neuer meat packing plant at Arkansas City, Kansas and was hired but then he was laid off after just a few days. Sunrise Dairy put him back to work but, a few days later, the packing house called him to come to work again so he went. Again, he was laid off a few days later. The dairy told him that he could come back again but that he would need to make up his mind where he wanted to work. When the packing house called again, he thanked the Barnes family at the dairy but quit again and went back to Arkansas City.
The work rules in the packing house at the time were such that any worker losing their job anywhere in the plant had the choice of taking the job of another employee with less seniority or being laid off. Bob had been losing his jobs in the packing house to others with more seniority. Having almost none himself and, therefore, no one whose job he could take, he had been the one who kept being laid off. This time, however, the job he was assigned was that of driving the cattle in from the holding pens, hitting them in the head with a sledge hammer, and then putting a chain around their back legs so they could be hoisted onto a rail to proceed along the processing line. Old bulls and extra fat steers had to be shot with a .22 caliber rifle instead. Inside the plant, the man who performed this job was called the "knocker." Bob soon noticed that other employees preferred to be laid off than to perform this job and, when they were laid off while he continued to work.  Bob excepted the position of knocker and was able to actually pass some of the laid off employees in seniority. Although he did not really enjoy the job, it meant steady employment and, with seniority, a chance at a better job elsewhere in the plant in the future, so he decided he would stay in the position and did so for thirteen years.
It seemed like a paradox to some. He was a gentle person who performed what some might perceive as a violent job. He had a matter-of-fact attitude about it though. If people were going to eat beef, someone had to kill it and since that job fell to him, he did it.
Son Bob went to the plant gate one evening and told the guard that he wanted to see his father. The guard relayed that message to the kill floor and soon Bob was walking across the parking lot toward the gate. Son Bob was startled to see his dad completely covered with blood from head to toe and holding his arms crossed in front of him in the air literally dripping with cow's blood. The only things that were not bright red were the whites of his eyes. When Bob noticed the look on his son's face, he reassured him that was the way he normally looked at work but, of course, he showered and changed clothes each day before going home.
The job was not all that safe either. He was often kicked by a thrashing hoof while trying to wrap the chain around a freshly killed cow's hind legs. One day in February of 1966, the chain hit him in the face so hard that he had to be taken by ambulance to the hospital in Arkansas City.
Sometime around 1972, Bob was feeling secure enough at the plant that he decided to put in for a better job weighing cattle carcasses as they passed by a large scale. He was awarded the job but just a few hours into his first day performing it, word came that they could not find anyone who would do the job of killing cattle. The sledge hammer was no longer in use by this time. The job was performed exclusively with a plunge gun by then. The plant management asked Bob if he would go back to that job just until they could fill it. He did so but everyone they hired to do it quit when they learned what the job entailed. After a few days, Bob told the union representative that he had been trying to help out but that the scale job was really his and that it was the company's problem if they could not find someone to kill the cattle. The representative agreed and got Bob returned to his scale job.
Being an early riser, Bob usually went to bed early. He did not like to stay up late and then have to "throw his pants under the bed and catch them as they came out the other side." One night, a dog was barking in the alley behind the house and disturbing his sleep. Yelling at the dog did no good so he got dressed, put the dog into the trunk of the family car, and drove out into the country. There, he put the dog out and returned home for what was left of a good night's sleep.
In the late 1950's, Bob paid one hundred dollars for a used fourteen-foot motorboat with a twenty-five horsepower motor and trailer. On a week vacation to the Ft. Gibson Reservoir in Oklahoma, he decided to try to teach his sons to water ski although he had never tried to ski himself. After some time of trying to get the boys up out of the water on the skis, a stranger watching from the shore told Bob that the boys were not very big and that he should try starting off using a little less power. It worked immediately with each succeeding on their next try after that.
At one point, Bob and Irma Dean took up square dancing and even helped organize the Flirts and Skirts square dance club in Winfield. Irma Dean really did not enjoy the dancing though so they quit going. They also helped organize the City Farmers 4-H Club in Winfield.
Bob would play checkers and an occasional game of Rook but did not care for board games or the like. He much preferred being outside than doing anything in the house.
Once, Bob decided to dismantle an old upright piano in the living room thinking it would be easier to do that than to try to move it in one piece. At one point, Irma Dean was trying to help steady it while Bob tried to pry it apart but it toppled over toward her and knocked her down. As the piano fell, it struck "Rocky" the boys' rocking horse, smashing its head but also slowing the piano's fall just long enough for Irma Dean to scramble from beneath it.  She said that she was happy to make the rocking horse a new head.
One Thanksgiving morning, Bob, Irma Dean, their sons, and their dog, Spot, went squirrel hunting on Bob's parents' farm. It was a cold day and there was some snow on the ground. Bob carried a long pole and would poke it up into the squirrel nests in the hedge rows as they walked along. This method did scare a squirrel out and it raced through the trees with the hunters trying to keep up. At the end of the hedge row was a pasture gate with another long hedge row on the other side of the gate. The squirrel ran down the last tree, jumped, bounding just once on the ground, and then leaped for the first tree in the next hedge row and what would have been certain freedom except that Spot grabbed the squirrel right out of the air just before he reached the tree.
Bob liked a wide variety of foods and would eat almost anything set before him, especially if he could put sugar on it. He would spoon sugar over almost everything on his plate except meat. The only food that he really did not like was mutton saying it was just too greasy. He was the only one in the family who would eat licorice but his favorite candy was orange slices. One day, he was lying on a cot when Irma Dean picked up an orange slice and asked him if he wanted it. He opened his mouth and she dropped it in, accidentally knocking out one of his front teeth in the process.
Bob would go fishing on occasion but did not like to sit still and hold onto the pole. His method of fishing was to bait the hook, throw the line in, anchor the pole under a rock, and take off walking along the creek bank. After hiking a mile or so, he would turn back, check his line, rebait the hook if necessary, replace the pole under the rock, and continue his exploration of the creek bank in the opposite direction. Having traveled about as far in that direction, he would again return to check his line. If he had not caught a fish by that time, he would take his line out and go home.
Bob went on trips in much the same way that he fished. He liked to travel and was willing to go almost anywhere but, as soon as he arrived, he was ready to leave again.
On a vacation to California in July of 1962, the family stayed one night in the Yosemite National Park. The next morning, the boys found a trail and a sign saying it led three and a half miles to the top of Yosemite Falls. They got permission from their parents to go, thinking that, for that distance, they should only be gone a couple of hours. The sign had not mentioned how steep the climb was and it took them over three hours to reach the summit. By then they were very thirsty not being able to get close enough to the water any sooner to get a drink. Meanwhile, Irma Dean had become worried so Bob started walking up the trail. He would walk awhile and rest awhile and ask everybody he met along the way if they had seen the two teenage boys. Since there was nowhere to go except follow the trail, everyone said yes so he was pretty sure they were alright. Finally, about two-thirds of the way to the top, he met the boys coming down, a trip that took only forty-five minutes. Bob had kept a tally and said that of the nearly thirty people he had talked to on the trail, only one other person, besides the boys, had made it all the way to the top of the falls. The rest had found the climb harder than they had expected and turned back.
Bob spent much of his spare time working with and tending his horses that he boarded at the Winfield fairgrounds and, later, at Statton's Dairy. His desire to have enough room of his own to keep them and his dislike of the daily commute to Arkansas City were the chief motivation for moving the family to a home on two and one-half acres at the intersection of Chestnut Street and the Country Club Road east of Arkansas City in February of 1966. There, he fenced off an acre on the west side of the house, built a barn, and kept a number of horses, ponies, calves, and greyhounds there over the years.
Bob was a horse trader at heart having come from a long line of horse traders. He enjoyed the dickering whether a trade was consummated or not. He trained his horses for roping and often entered jackpot team ropings held weekly each summer at the Arkansas City Saddle Club arena south of town. Some of the horses he sold could be found on the various rodeo circuits around the country.
He started out buying shetland ponies to practice his roping on but soon found himself keeping one around for the grandchildren to ride. He would also buy a dozen head or so of calves at the community sale, feed them for awhile, and then take them back to the sale again, hoping to make a profit.
Bob and Irma Dean planted fruit trees in their yard to commemorate the birth of their grandchildren. They planted both a peach and an apricot tree for Ann, a MacIntosh apple tree for Kevin, a Belle of Georgia peach tree for Laura, and dwarf cherry and apricot trees for Roger.
Some of the most memorable pictures are of Bob's grandchildren asleep on his lap while he slept in a reclining chair. When the kids did not go to sleep so easily, he sometimes took them for a ride on the riding lawn mower or put them in the car and drove them up and down the road until they did fall asleep.
Larry and his family lived for a time on old U. S. Highway 77 south of Winfield. A car stopped one day and a man brought Ann to the house saying he had found her out on the highway. Ann was quite small then and had gotten out of the yard and wandered onto the road. When her grandfather heard what had happened, he built a gate across their driveway in order to prevent that from happening again. He then built another gate across Bob's driveway in Wichita to keep Kevin from wandering into the street there.
Bob always liked rodeos and spent his vacation at the Cheyenne Frontier Days Rodeo in Cheyenne, Wyoming a couple of years. He would also attend at least a couple performances of the PRCA National Finals Rodeo which was then held each December in Oklahoma City, Oklahoma. For one of those performances each year, he would purchase tickets for his sons and their wives. Irma Dean would keep the grandchildren while Bob treated their parents to a night at the rodeo. Bob and Larry attended the performance in 1967 where 46-year-old Freckles Brown made the historic ride on the previously unridden bull named Tornado.
Bob enjoyed decorating the outside of the house with lights at Christmas time and even made a large star outlined in blue lights for the top of the barn. His display became quite well known in the Arkansas City area.
As far as we know, Bob had the normal childhood illnesses and diseases except for the mumps. However, he managed to come down with a severe case of them soon after his sons got them in the early 1950's.
Bob and Irma Dean were returning home from Winfield on July 9, 1975 and were about six miles south of Winfield on the Green Farm Road when a wheat truck ran a "Yield" sign and pulled out in front of them. Bob hit the brakes but there was not enough time to get stopped before they slammed into the left rear wheels of the truck. They were both taken by ambulance to Newton Memorial Hospital in Winfield where Bob was treated and released. Irma Dean suffered more serious injuries and spent a few days in the hospital. No one in the wheat truck was injured.
Surgery on a lump in a lymph node in 1972 led to the discovery of lymphatic melanoma cancer. Bob, like most of the other soldiers who had served in the tropics, had gone without a shirt much of the time and the suspicion is that he just got too much exposure to the sun. The surgeon referred him to the M. D. Anderson Clinic in Houston, Texas saying that they were doing some of the best work in the country with that type of cancer. Bob and Irma Dean went to Houston where he was placed in an experimental chemotherapy program. At the time, there was no known cure for that type of cancer with the five-year survival rate being only nineteen percent.
After returning home, he had to go to Newton Memorial Hospital in Winfield to receive his next few treatments as an outpatient. After that, Irma Dean administered them at home though he had to return to Houston periodically for examination and evaluation.
Although quite ill, Bob returned to work full time and even bought some greyhounds and took up coyote hunting. Sometimes he would go with other hunters but would not tell them about his illness although he felt guilty that he was not physically able to take his turn walking out areas not accessible by pickup truck.
Bob was not able to return to work after Christmas of 1976 due to discomfort from the rather sudden swelling of his abdomen. Holes had developed in his leg bones so he could no longer walk and he needed either crutches or a wheelchair to get around.
On the afternoon of December 31, 1976, his brother, Loyd Lawrence, drove him to the hospital in Winfield and then called Bob's son, Bob, from there saying that, if he ever wanted to see his father again, he had better get to Winfield in a hurry.
Son Bob drove his pickup truck to Winfield but could not locate them. The doctor had told Bob he should get back to Houston as soon as he could so they had returned home to Arkansas City to get ready to go. Bob called Arkansas City from the Winfield hospital. He talked to Larry who told him that Loyd; his wife, Juanita; Bob; and Irma Dean; had just left for the airport in Wichita. Son Bob drove north from Winfield on U. S. Highway 77 but then decided that Loyd would probably take a county road through Udall instead so Bob cut across on the Bethel School Road to that road. When he was about a quarter of a mile from the county road, Bob spotted Loyd's car speeding north through the intersection with his emergency flashers on. By the time Bob could turn the corner, turn on his emergency flashers, and get up to speed, he was about a half-mile behind Loyd's car and the eighty-five miles per hour that his pickup would run could not close the gap. When they got to Udall, Loyd slowed down and Bob did not so he caught up with them just as they were leaving town. Loyd asked Bob if he knew anyone with a white pickup and Bob replied, "Just Bobby." Loyd said, "Well there is one that is doing a pretty good job of keeping up with us." Bob turned his head to look and said, "That's Bobby."
At the airport, Bob, Irma Dean, and son Bob (with no luggage and still wearing his postal uniform) boarded an airplane bound for Texas. In Houston, they took a bus to the downtown bus station. It was raining and about ten p.m. by then, too late to go to the clinic, so they tried calling a cab to go to a motel. It was then that they remembered that it was New Year's Eve. There were no cabs available so they called a motel with a shuttle bus and found lodging that way.
Next morning, the shuttle bus took them to the clinic but it was New Year's Day and all but an emergency room was closed. Spending most of the day in the waiting room, Bob was examined and admitted to the Center Pavilion Hospital that evening. Son Bob stayed for another day and then flew back to Wichita.
Bob gave his permission to have C Parvum administered into his abdominal cavity. It was an experimental treatment that had been used in the lung cavity before but this was the first time that it had ever been introduced into anyone's abdomen. The doctor was able to drain quite a bit of fluid off of Bob's abdomen one time bringing him some temporary relief but that only lasted a matter of hours before the fluid built up again. That time, it had formed into pockets and could not be drained again.
In a telephone conversation three weeks later, Irma Dean told Bob that she was very tired and needed some relief from staying by Bob's bedside so they decided to have son Bob pick up their car at Arkansas City and drive it to Houston. Bob and Irma Dean were watching President Jimmy Carter's inaugural parade on television when son Bob arrived on Saturday afternoon, January 22nd, to stay for a week.
Bob was placed in intensive care at noon on Monday, January 24th and Larry decided to fly down to see him. Larry was late arriving for his flight at the Wichita airport that night and Bob's brother, Kenneth, handed him his ticket as they ran through the terminal. Bob's brother, Loyd, met them at the departure gate where he had managed to hold the plane for about ten minutes insisting that Larry would be right there and really needed to catch that flight. Loyd flew to Texas later that week, too. They took Bob out of intensive care on Thursday, January 27th so Larry and Loyd flew back to Kansas.
On Saturday, January 29, 1977, Bob seemed to be feeling better than he had been in some time. Son Bob was supposed to return to work the following Monday so he drove back to Wichita. After spending the day visiting and reading with Bob, Irma Dean got a good night's sleep. When she went to his room on Sunday morning, his body was warm but his extremities were cold so she called a nurse and the nurse called a doctor. There was nothing they could do to revive him and he was pronounced dead at 9:30 a. m. on January 30, 1977. It had been just less than five years from the time he was first diagnosed with cancer. An autopsy showed that he had "metastatic malignant melanoma to heart, lungs, liver, adrenals, omentum, kidneys, skull, splenic capsule, intestinal serosa."
Irma Dean boarded an airplane for Kansas via Tulsa, Oklahoma that afternoon and was scheduled to arrive in Wichita around 8:30 p. m. Bob, Kenneth Lawrence, and his wife, Mae, were to meet the airplane there but, near the arrival time, a sign was posted that the airplane would be two hours late arriving. About eleven p. m., another sign was posted at the Wichita air terminal gate saying that the flight had been canceled. The ticket windows were all closed by then so Bob called the airline's ticket number and asked the operator what had happened to that flight. He told her, "I know that airplane went up so it had to come down somewhere. Just tell me where and what happened to it!" The operator transferred the call to a supervisor who said that the nose wheel on that plane had not deployed while preparing to land at Tulsa so they had to make an emergency landing. The plane had gotten down safely, all aboard were alright, and a bus had been charted to take the passengers on to Wichita. She told him that the bus should be arriving at the Wichita air terminal just about midnight and it did. Irma Dean was tired from a long day but otherwise alright.
The funeral arrangements were made on Monday, January 31, 1977 with the Rindt-Erdman-Oldroyd Funeral Home in Arkansas City and the funeral was held there at two p. m. on Thursday, February 3, 1977 with Rev. Mike Haley officiating. Burial was in Lot #78, Block E of the West Division of Highland Cemetery at the south edge of Winfield. The pallbearers were Clifton Colbert, Don Jackson, Jim Neal, Jerry Rich, Virgil Watson, and Roland Willard. A memorial was established in Bob's name at the H. L. Snyder Memorial Research Foundation in Winfield.
The men who had worked in Bob's department at the packing plant got together and carpooled out to the house one evening before the funeral. Irma Dean invited them in and there were so many of them that they completely encircled the large living room. They presented Irma Dean with some money that they had contributed saying they wanted her to use it to help defray some of her expenses.
Irma Dean offered Larry his dad's dress buckskin Tony Lama brand cowboy boots but when Larry learned that his dad was to be buried barefoot in his western cut suit, he took the boots to the funeral home and asked to have them put on the body. The funeral director told him that the body would be too stiff to do so unless the boots were cut open and then wrapped around the feet. He did offer to place the boots in the casket with the body if that would be alright so Larry agreed to have that done. Larry explained he had heard that, when people see visions of deceased persons, they often report seeing them dressed in whatever they were wearing in the casket so he wanted his father to have his good boots.
About a year before he passed away, Bob had purchased a new pickup truck setting it up on payments and was able to obtain payment insurance so that it would be paid off upon by the insurance at his death. That, with the sale of the truck, helped supplement the three-thousand-dollar life insurance policy that he had.
Irma Dean presented the Winfield American Legion Post #10 with the American flag which had draped Bob's casket. Each Memorial Day and each Veteran's Day for several years after that, the Post would set up poles for those flags along the drive around Highland Cemetery, each pole with the nametag of a veteran who is buried there.
Irma Dean purchased a tombstone that was placed at the grave on May 3, 1977. She passed away on April 10, 2002 at Goddard, Kansas and is buried beside Bob in Highland Cemetery.