AMA Flat Track Motorcycle Races
Cowley County Fairgrounds
Winfield, Kansas
1962 – 1972
By Ken Bright
GENERAL INFORMATION:
Motorcycles had to have a production run of at least 100 units with identical engines and transmissions that were available for sale within the USA. This eliminated handmade proto types. Once in top gear, downshifting was not allowed until about 1965. Brakes were not allowed until sometime around 1970. Almost all frames were rigid rear ends which were light but produced a rough ride. Lap times were usually around 29 - 30 seconds for the half-mile track. This produced top speeds of over 90 MPH. Just think about going into a corner at over 90 MPH with no brakes and you can't downshift… Man, what a thrill!!!
Riders were licensed by the American Motorcycle Association (AMA.) Class points were allowed for each heat race, semi-final, final, and trophy dash for which money was paid. A certain number of points were required for advancement to the next class.
Points were awarded as follows:
| | | |
| --- | --- | --- |
| 1st place | - | 5 points |
| 2nd place | - | 3 points |
| 3rd place | - | 2 points |
| 4th place | - | 1 point |
NOVICE CLASS:
This was a very popular class, and many different brands of motorcycles competed. Riders were limited to 250cc size engines. Two-stroke, four-stroke, single-cylinder, twin-cylinder, overhead valve, or overhead cam, id didn't matter as long as it was a 250cc. Yahama, Harley-Davidson, Bultaco, Honda, and Suzuki made up most of the entries. All had very strong running and affordable motorcycles. That accounted for the large turnout of riders in this very competitive novice class. A few of the riders were sponsored by individual motorcycle dealers, but most riders owned their own race bikes.
To advance to the Amateur class, a rider had to accumulate a total of 20 points.
15% of the total purse at Winfield went to riders in this class.
AMATEUR CLASS: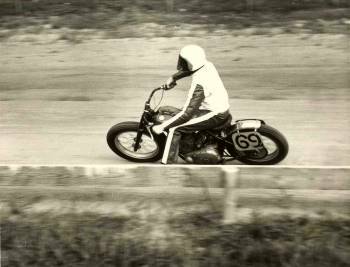 Ken Bright riding his own BSA #69N, competed at Winfield from 1962 through 1968 although this particular photo was taken at an Indiana race track in 1967 riding a Cappy Grockett sponsored BSA - Ken Bright collection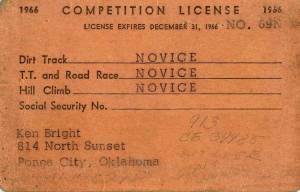 Ken Bright's 1966 AMA competition license
Riders were limited to 500cc overhead valve engines or 750cc flathead engines. BSA, Triumph, Norton, and Matchless were your typical overhead valve motors. Harley-Davidson was the only flathead engine. Harley-Davidson, Triumph, and BSA were the most common motorcycles in the Amateur class. Since these motorcycles were more expensive to buy and maintain, more of the riders found sponsors, but many still owned their own race bikes.
The Amateur class was a big step up for many riders. The larger motor size and increased speed required some adjustment. Many riders who were very successful as a Novice, did not enjoy that success in their first year as an Amateur. This class started to sort out the riders who were really serious about racing from those who were just having fun on the weekend.
To advance to the Expert class, a rider had to accumulate a total of 40 points. The points he had acquired as a novice were not counted.
25% of the total purse at Winfield went to riders in this class.
EXPERT CLASS:
Riders were limited to the same engine sizes as the Amateur class with Harley-Davidson being the most common.
Racing numbers were issued from the American Motorcycle Association. There were two racing number classifications within the Expert class. The top 99 riders were issued a number without a letter following the number. These were called national numbers. The rider who finished first in the national points standing was issued national number one for the following year, but the other national numbers did not indicate their rank in the national points standing.
Almost all of the riders with national numbers had some sort of sponsor. The very best received full factory sponsorship. The rest of the Expert riders had a letter following their number. Most of the riders in the Kansas – Oklahoma area carried the letter "N" or "M" after their number. Those riders who were successful in the Novice and Amateur classes found very stiff competition in the expert class as most of these veteran riders made their living from racing motorcycles. You needed to have first-rate equipment and a burning desire to win if you were to compete at this level. There were many excellent riders in the Midwest that could not find the necessary sponsorship. The ones that did became some of the best the sport has ever produced.
60% of the total purse at Winfield went to riders in this class.
AMA Sanctioned

Races at Winfield, KS

Race

Star Rating

Total Purse

July 4, 1959

Unknown

Unknown

May 30, 1960

Unknown

Unknown

July 4, 1960

Unknown

Unknown

May 20, 1962

3

$600

May 12, 1963

3

600

May 17, 1964

3

600

May 16, 1965

3

600

May 15, 1966

3

600

May 21, 1967

3

600

May 19, 1968

4

900

July 7, 1968

6

1,800

May 18, 1969

5

1,500

*

May 24, 1970

6

1,800

*

May 16, 1971

6

1,800

*

May 21, 1972

10

3,000

*
*An additional $200 was offered in 1969 for any previous Expert final winner at Winfield who could repeat the feat. That amount was increased to $300 from 1970 through 1972. Another $400 bonus was posted from 1970 through 1972 for any defending Expert final winner could repeat the following year. Nobody ever won either bonus.
"The stars were a code type thing so the rider would know how much the purse was, but potential spectators wouldn't know how little it was. It was $100 per star as I first remember it, though I think it started out at $50 per star. Lots of stars meant lots of cash."
Willard "Wild Will" Kelley – competitor in the Novice class at Winfield in 1972
"Most motorcycle dirt track races around were 3-star. The bigger races like East / West went as high as 10-star."
George Holter – competitor in the Amateur and Expert classes at Winfield in the 1960s

APPROVED FLAGS:

| | |
| --- | --- |
| WHITE - | Start of race |
| YELLOW - | One lap to go to finish |
| RED - | Danger on the track – does not mean hold position |
| WHITE with RED CROSS - | Ambulance flag – indicates that an ambulance is on the track – does not mean hold position |
| WHITE with BLACK CENTER - | Move over, another rider is trying to pass |
| BLACK with 1" WHITE BORDER - | Disqualification or stopping of race – report to referee at once |
| BLACK & WHITE CHECKERED - | Finish, end of race |
Source: 1965-1966 AMA rule book
Return to the History of Motorcycle Racing at Winfield, KS web page