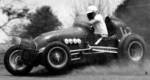 Johnny Thomson in 1956
Dave Knox photo from the Bill Green collection
Chuck Weyant went east from Illinois to drive the car, now a red #43, in 1956 winning the second USAC sprint race in history at Jacksonville, Florida on February 12, 1956. He crashed it hard at Reading, Pennsylvania on April 29th in what is believed to have been the first time the car was ever upside down.
Later that year, the car was painted red with a yellow number 12 and named the "Rosemont Special" when driven by Bill Brown of Collegeville, Pennsylvania.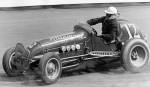 Bill Brown in 1956
Dave Knox photo from the Bill Green collection
f theplicate car numbersrack oines where he also crashed itd he Charlie Musselman and Al Herman also drove the car that year. The car also raced as the #3 for a time that year
Frank Curtis saw Ralph Liguori of Tampa, Florida win a National Association for Stock Car Auto Racing (NASCAR) midget race in New York and asked him if he would like to try his hand in a sprint car. Liguori made his USAC debut in the "Rosemont Special" on March 31, 1957 at the Reading, Pennsylvania opener. One week later, Liguori drove it to the quickest time in time trials at Williams Grove, Pennsylvania.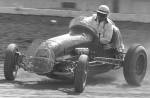 Ralph Liguori 1n 1957
Dave Knox photo from the Bill Green collection
Liguori's wife had been a childhood friend of Frank Luptow's wife and Ralph had actually worked on the car with Luptow in Tampa in 1952.
By October 20, 1957, Al Herman had returned to the seat of the "Rosemont Special" finishing 14th in the feature at Williams Grove. Still painted red and yellow, the car carried the #12 in 1957.
In a deal brokered by Johnny Pawl, Harry Whitehorse of Madison, Wisconsin purchased the car from Frank Curtis either late in 1957 or early in 1958. Pawl had offered Whitehorse either this car or the Belanger #99 former AAA championship winning car for the same price. Neither car had an engine but Frank Curtis' car had been offered with some spare wheels and a trailer.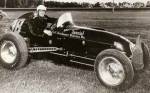 Bill Horstmeyer in the late 1950s – Bob Clements collection
Whitehorse changed the color back to black, put a gold leaf #98 on it, added black upholstery with red pinstripes, and named it the "Chief Automotive Special". He installed a bored out six-cylinder Chevrolet engine but, while it had plenty of torque, it was too slow to be competitive so he switched to a small block Chevy V8 engine.
Owen Snyder, Jr. drove the car for Whitehorse as did Bill Horstmeyer who drove it at a number of places including at the North Dakota State Fairgrounds in Fargo, the Minnesota State Fair in St. Paul, and the Iowa State Fair in Des Moines.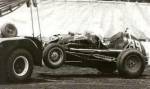 After Al Fredenberg's Crash at St. Paul, Minnesota in 1962
Bob Clements collection
Leroy Neumeier drove the car once in a Mississippi Valley Championship Circuit (MVCC) race only to hit the outside fence and bend the radius rods.
A. J. Shepherd drove it once at a USAC race at New Bremen, Ohio on June 25, 1961 but the radiator packed with mud causing the engine block to crack and he failed to qualify.
Harry Whitehorse traded the car to his brother, Walter, for an Offy midget in either late 1961 or early in 1962. Walter renumbered the car 99 and his brother-in-law, Owen Snyder, Jr., drove the car under the alias "Todd Barton" due to his regular day job at the time.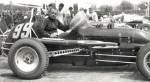 Bill Horstmeyer in 1962
Larry Sullivan photo
Al Fredenberg wrecked the car in an IMCA race at the Minnesota State Fair in St. Paul in the summer of 1962.
By 1963, Walter Whitehorse had painted the car pearlescent white with a two-tone gold #98 although the number was changed to 97 for one day of racing at the Minnesota State Fair due to duplicate car numbers. His drivers that year included "Todd Barton", Bill Horstmeyer, Keith Thomas, and Al Fredenberg. Fredenberg crashed the car in one of the races in St. Paul.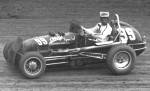 "Todd Barton" in 1963
Harry Whitehorse collection
Owen Snyder, Jr. purchased the car from Walter Whitehorse late in 1964 but only raced it occasionally before selling it through Harry Whitehorse to Cleo Kirby of Rock Island, Illinois late in 1965.
Kirby took the car to Tampa, Florida in February of 1966 where Tom Custer of East Peoria, Illinois drove it in the IMCA races at the Florida State Fair. It ran poorly there due to clogged injectors but Custer managed to win a feature in the car at Jacksonville , Florida later that year. Most of the races that Kirby and Custer competed in were with the MVCC. Rick McDole also drove the car once for Kirby. By 1969, the car number had been changed to 86. Kirby sold the car to someone in Anderson, Indiana in the 1970s.