Air Capital Speedway
Wichita, Kansas
B Feature - June 3, 1966
Roy Childs had 100 acres on the northeast corner of U. S. Highway 54 (now U. S. Highway 400) and 135th Street West just west of Wichita, Kansas that he had purchased from the Westinghouse Credit Corporation for $100,000 in 1965. On the land were a concrete grandstand and a quarter-mile dirt racetrack that had been known as Frontier Speedway when it was operated by Orval Beckel in 1963. Childs built a nightclub on the southeast corner of the property and leased the rest to Fred Springs who built the moderately banked half-mile dirt Air Capital Speedway in front of the existing grandstand. Springs operated Air Capital Speedway for five months in the spring and summer of 1966 before closing it for financial reasons.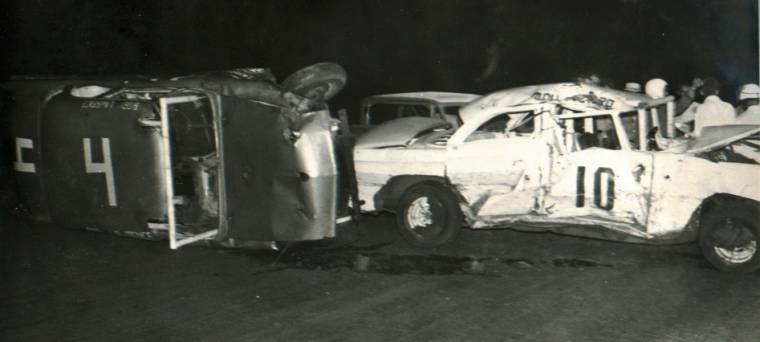 Lou Steward, driving the 1956 Mercury #10, suffered neck and back injuries in this first lap crash. Bob Lawrence was driving the 1955 Ford #4 and was uninjured. Steward had just passed Lawrence for the lead in the third turn when his car "caught a rut" and overturned several times. Lawrence's Ford went up and over the top of Steward's Mercury while it was rolling. Both cars were destroyed. That is Chuck Owens' white over pink 1957 Ford #20 partially visible behind the wrecked cars. The photo below shows a slightly different angle of the aftermath of this crash – Photo from the Bob Lawrence collection
Photo from the Lou Steward collection
The #4 Ford had been towed to the racetrack on a tow bar. It was nearly 60 miles back home to Winfield, Kansas and the car was in no shape to be towed so Bob Lawrence borrowed a trailer from Lou Steward and returned to the racetrack the next afternoon to retrieve the car.
Note the grandstand in the background. That structure is still there but has long since been remodeled into a conventional building – Photo from the Bob Lawrence collection